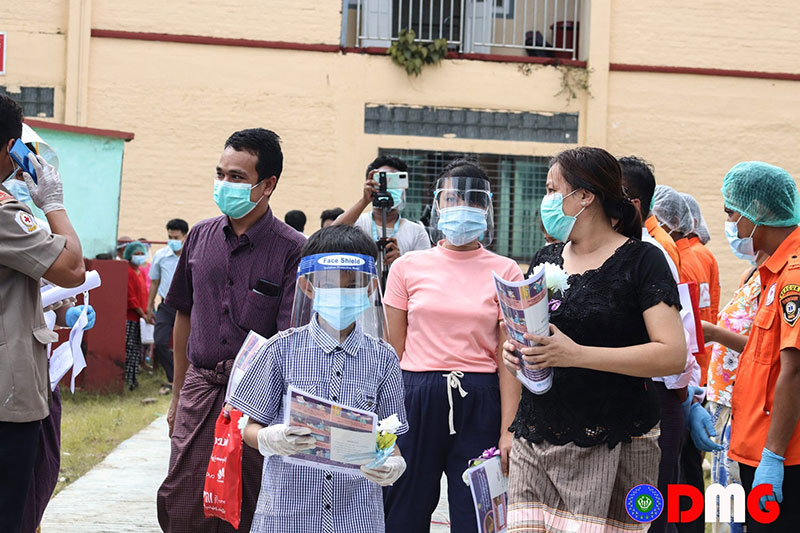 Thet Paing | DMG
6 October 2020, Sittwe 
COVID-19 patients who have been put on oxygen concentrators at Sittwe General Hospital in Arakan State will be treated with convalescent plasma from recovered patients, according to an official from the hospital.  
One of two patients currently being treated in Sittwe General Hospital's intensive care unit has received plasma therapy and the results have been good, said Dr. Zaw Lwin, medical superintendent of Sittwe General Hospital, who added that all critically ill patients will be treated with plasma therapy. 
"The person who donates plasma must be recovered from any critical condition, spending at least two weeks at the hospital. We looked for recovered patients in Sittwe because there is no flight to Yangon to collect plasma from the Department of Public Health there. They also donate plasma generously," he explained. 
Dr. Zaw Lwin urged residents in Sittwe to strictly abide by the instructions issued by the Ministry of Health and Sports as the number of COVID-19 positive patients continues to increase by the day. 
"Laboratory samples are sent to Yangon for testing. Some samples are tested in Sittwe. There is no regular flight to Yangon to collect plasma from the Department of Public Health. The number of people infected with COVID-19 is increasing. Between 10 and 20 patients test positive for coronavirus daily," he added. 
As of 4:30 p.m. on October 5, there were 947 confirmed cases of COVID-19 in the Arakan State capital Sittwe, with 803 recovered patients discharged from hospitals and four dead. 
Convalescent plasma therapy is a treatment that involves taking plasma from a person who has recovered from a serious illness and injecting it into the body of a person who is currently suffering from a similar ailment.