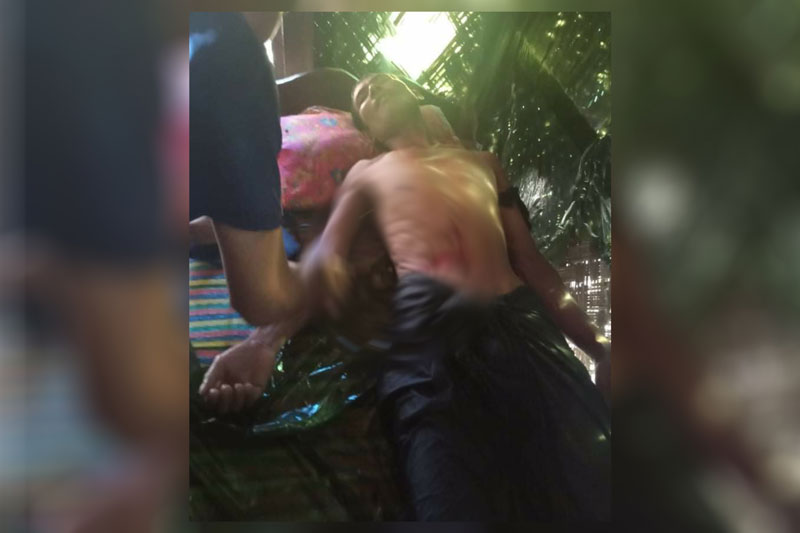 Aung Htein | DMG
12 October 2020, Sittwe  
Two men from Ywahaung village in Ann Township were injured in a shelling on October 11 and were hospitalised a day later, according to people assisting the victims, who said travel restrictions prevented them from receiving proper medical treatment the day of the incident. 
The two victims were seriously wounded by an artillery shell allegedly fired by security personnel from a military outpost on Kywehein Hill, between Kazu Kaing and Jade villages, on Saturday while the men were fishing, local villagers said. 
U Than Myint's legs were hit by shrapnel and U Sein Win Maung suffered injuries to much of his body. 
Locals have been prohibited from transporting food supplies to Dar Let Chaung village-tract, which Ywahaung village is located within, as the Tatmadaw has blocked land and waterway access to the area since 2019, residents said. 
The two injured men were sent to Kanhtauntgyi Hospital in Myebon Township about a day after the shelling, with their hospitalisation delayed due to the travel restrictions, said Ko Win Hla Aung, a resident of Kanhtauntgyi town. 
"I went to the hospital and helped the victims. One of the two victims had to undergo amputation. The victim who sustained shrapnel wounds to his abdomen will have to undergo surgery. We provided the victims with medicine," said Ko Win Hla Aung. 
In April, two people from Alaekyun village in Dar Let Chaung village-tract who were wounded by an artillery shell were forced to return home after a security checkpoint denied passage of the boat that was transporting them to the hospital. 
"There seem to be constant threats to human life," said Ko Myo Lin, a resident of Ann Township. "Some people were killed by artillery shelling and some are facing livelihood hardships as they are blocked from accessing food supplies. About 70% of locals had to flee their homes due to the Tatmadaw's blockage." 
There are over 13,000 people living in the Dar Let Chaung village-tract, which consists of about 40 villages. The majority of local residents earn their living by farming and fishing. 
As a result of restrictions on overland and waterway travel, locals have taken refuge in downtown Ann and Kandauntgyi town as they faced food shortages, leaving only about 4,000 people in the village-tract.