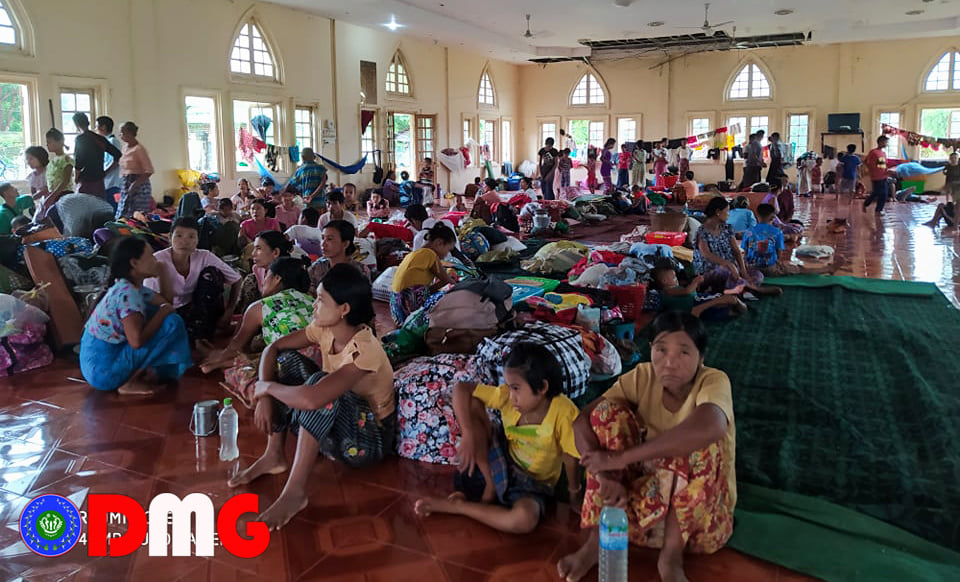 Aung Htein | DMG
13 October 2020, Sittwe 
Due to travel restrictions prompted by rising COVID-19 infections in Arakan State, relief aid and food supplies are in short supply at some camps for internally displaced people (IDPs), say responsible personnel from the camps.  
It has been several weeks since civil society organisations have brought provisions to Myebon Township's Sanyin IDP camp, which accommodates more than 400 IDPs, and food has been in short supply for 20 days, according to camp in-charge Ko Thura Moe.  
"If travel restrictions continue, survival at the camps will not be easy. All can starve under the current food shortage conditions, as no civil society organisations can come," he added.  
IDPs from some camps are borrowing food from nearby villages as camps run out of basic items such as rice, cooking oil, salt and chili, IDPs say.  
"As we don't have jobs, we have been relying on donors," said Daw Mar Mar, who has taken refuge at Sanyin IDP Camp. "We used to borrow from other people. As everyone cannot work or do business now, we cannot borrow from them anymore. We can't imagine what sort of difficulties will come in future." 
Similar circumstances are facing more than 600 IDPs who have recently arrived at the Nyaung Chaung displacement camp in Kyauktaw Township, where more than 4,000 people were already staying, the camp in-charge there said. Food supplies are being shared with the newly arrived IDPs from the modest stockpiles of those already there, according to the camp in-charge, Ko Khaing Myo Aung. 
"The previous refugees have had assistance from the World Food Programme. Rice provisions for the refugees who arrived earlier have to be shared with the new refugees," he said. 
As the number of IDPs has increased at the Nyaung Chaung camp, they are facing accommodation and healthcare problems in addition to food shortages, Ko Khaing Myo Aung added.  
The number of IDPs in Arakan State has surpassed 226,000 due to conflict between the Tatmadaw and the Arakan Army over the past two years, according to a Rakhine Ethnics Congress statement issued on October 1.