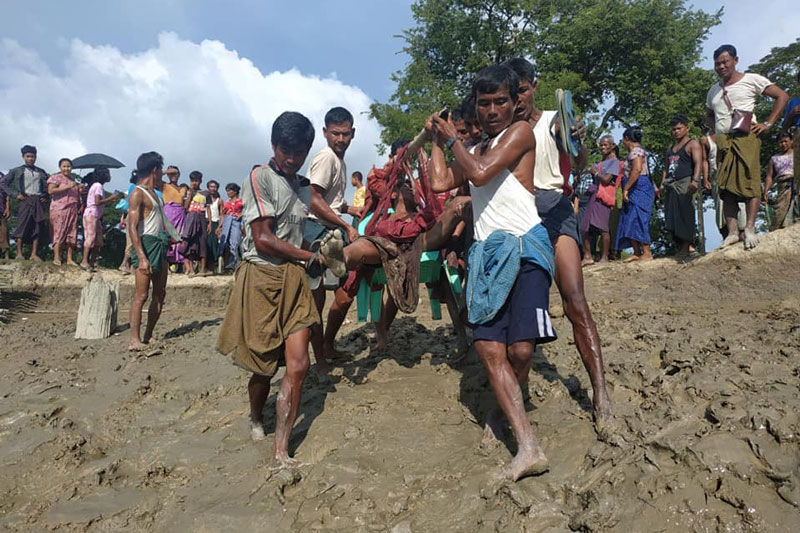 Hnin Nwe | DMG
15 October 2020, Sittwe 
Four residents of Pyar Pin Yin village in Arakan State's Rathedaung Township were wounded when artillery shells struck their village on Wednesday, with one of the victims admitted to Sittwe General Hospital with serious injuries.  
U Ba Shwe, 57, was seriously wounded by shrapnel in his chest and other parts of his body. The three other victims, ages 35, 56 and 34 respectively, sustained minor wounds. 
"My father was hit by shrapnel all over his body," said U Ba Shwe's daughter Ma Oo Thein Nu. "His chest wound was the most serious one, and we were told to take him to Sittwe Hospital. The doctor said he needs an operation, and told us not to worry. But we worry for him given his serious wounds." 
The three others were admitted to Rathedaung Township Hospital, according to local residents. 
U Thein Sein Maung, one of the three other victims, said: "As we saw artillery shells fall on the fields near the village, we hid in the school. But then, shells fell on the school compound. The first two shells missed us, but we were hit by the third shell."   
Following the incident, many Pyar Pin Yin villagers fled in fear to nearby villages, said community elder U Tun Thar Kyaw. 
Since early October, at least nine civilians in Rathedaung Township have been injured in shellings and crossfire as the military and Arakan Army continue to clash in the region. 
According to data gathered by DMG, at least 122 civilians were injured in the conflict from June to October 15.   
Fierce clashes in Rathedaung Township over the past few weeks have displaced more than 3,000 people on top of tens of thousands already uprooted in the township.