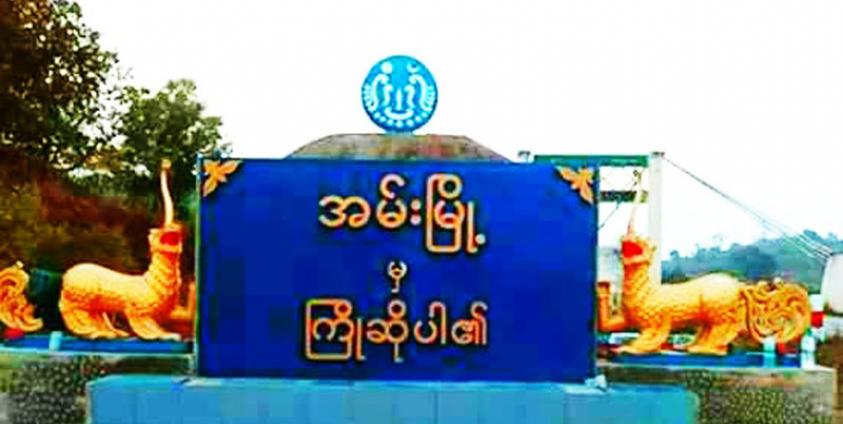 Hnin Nwe ,Myo Myint Zaw | DMG
16 October 2020, Sittwe 
Three residents of Sanae village in Ann Township, Arakan State, who were recently arrested by the Tatmadaw were transferred to the Ann Myoma police station after five days in military custody, according to family members of the detainees.
The three men have been identified as U Maung Than Tin, 55, U Nyi Pu, 45, and Ko Maung Than Myint, 23.
"The village administrator phoned to tell me that he had heard the three men detained by the Tatmadaw arrived at the police station. So I contacted the Ann Myoma police station by phone. An official from the police station said that three men were there and that my husband was among them," said Daw Than Than Nu, the wife of U Nyi Pu. 
Ma Khaing May Oo, the daughter of U Maung Than Tin, who was arrested while herding cattle outside Sanae village, said police filed a lawsuit against her father. 
"A complaint has reportedly been lodged in relation to the three detainees at the police station. It is still unknown what charges will be filed against the three men. We are very sorry that my father was arrested by the military without any reason," she added. "Family members want to meet with them when they are being prosecuted." 
DMG contacted the Ann Myoma police station to find out more about the reported transfer of the three men into police custody, but no one there could be reached. 
A military contingent entered Sanae village and took nine residents from their homes on October 10-11. Two of the detainees, identified as U Maung Tun Shwe and U Maung Ke, were released on October 13, residents said. 
One of the Sanae village residents arrested by the Tatmadaw is currently being held in police custody in Maei town, according to Police Inspector Ko Ko Min Tun, head of the Maei police station. 
"A person is being held in police custody under the order of the tactical command officer but he has not yet been charged," the police inspector said.  
Several people have died in military custody since the beginning of hostilities between the Tatmadaw and the Arakan Army in Arakan State began in late 2018, and some remain missing with little to no information as to their whereabouts or status since being detained.