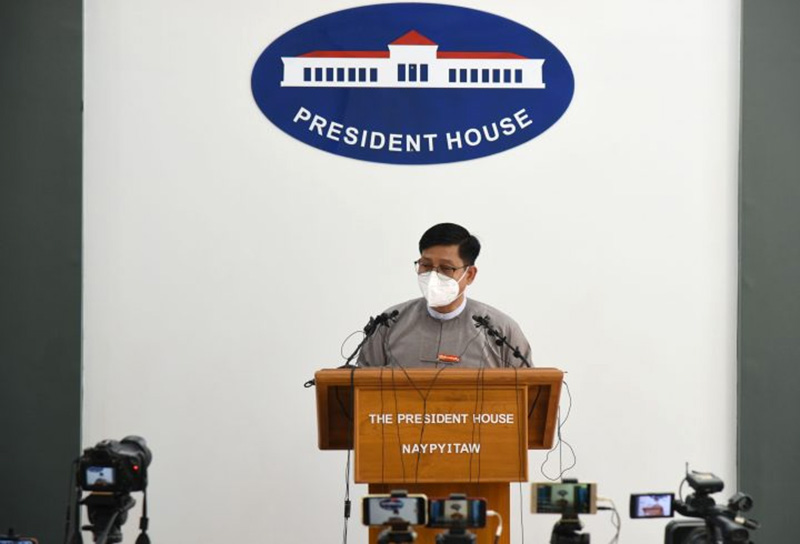 Khin Tharaphy Oo | DMG
23 October 2020, Sittwe 
A senior government official has called on the Arakan Army to stop "causing distress to innocent civilians" as the warring sides continue to point fingers over who is responsible for a conflict that has displaced more than 200,000 people and prompted the cancellation of most elections in Arakan State this year. 
"It is necessary to cease the acts causing distress to innocent civilians on the ground. Especially, elections cannot be held in about a half of total townships in Arakan State. And, people are in a state of alarm," U Zaw Htay, the President's Office spokesperson, said at a press conference on October 23.  
"The government always opens the door to peace," he added. "So, AA leaders need to review their anticipations, whether they wish to enjoy an actual peace process to seek the best way through dialogue. After analysing themselves, they need to decide what ways and means would be good not only for Arakan State but for the Union. If not, problems will be worse. Depending on the ground situation, peace talks will be more difficult." 
The Arakan Army issued a press release on October 19 expressing its belief in the need to solve political crises through dialogue, while defending its right to defend itself "against the Myanmar government and fascist military's offensive operations."  
Nine entire townships in Arakan State and dozens of village-tracts and wards in four other townships in the state will not be voting in the country's November 8 general election, the Union Election Commission announced on October 16, citing security concerns amid the ongoing Tatmadaw-Arakan Army conflict. 
Early this month, the Rakhine Ethnic Congress said the number of displaced civilians due to the fighting had surpassed 226,000. As the conflict in Arakan State drags on, civilian casualty totals — and cases of people gone missing or arbitrarily detained — continue to rise.