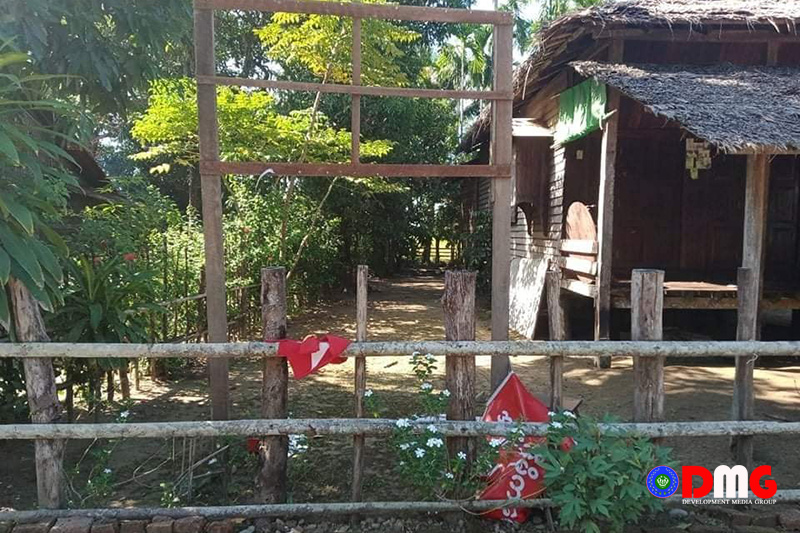 Aung Kaung Zaw | DMG
27 October 2020/ Manaung 
A house with a National League for Democracy (NLD) signboard in Kha Yaing village, Taungup Township, was pelted with bricks and stones this week, damaging the party placard, according to the village administrator. 
A group of people with faces covered arrived in front of U Zaw Linn Oo's home in the village at about 10 p.m. on October 25 and threw stones at the house and the signboard, village administrator U Shwe Hla Win said. 
"I was in town when the phone complaint came to me saying their house had been pelted with stones and bricks, destroying the signboard. So I informed the police about this. The house was also stoned but no one was injured," he said. 
More than 30 NLD signboards elsewhere in Taungup Township have similarly been destroyed since September, said U Thein Myint, the NLD's information in-charge. 
"There has not been any throwing of stones like this in the past," U Thein Myint said. "This sort of thing should not be done. I see this as a terrorist act and also targeting the lives of party members." 
Adding to election tensions in Taungup Township, the Arakan Army abducted three NLD candidates running for seats in Taungup as they were campaigning on October 14. 
Following the abductions, NLD candidates and members from various townships in Arakan State have expressed concern for their own safety and campaigning has been hampered, party members said. 
On October 16, the Union Election Commission (UEC) announced that elections would not be held in the entirety of nine Arakan State townships, as well as 15 wards and 137 village-tracts across four other townships in the state.  
Ten wards and 52 village-tracts in Taungup Township are included on the UEC's list of cancelled constituencies.