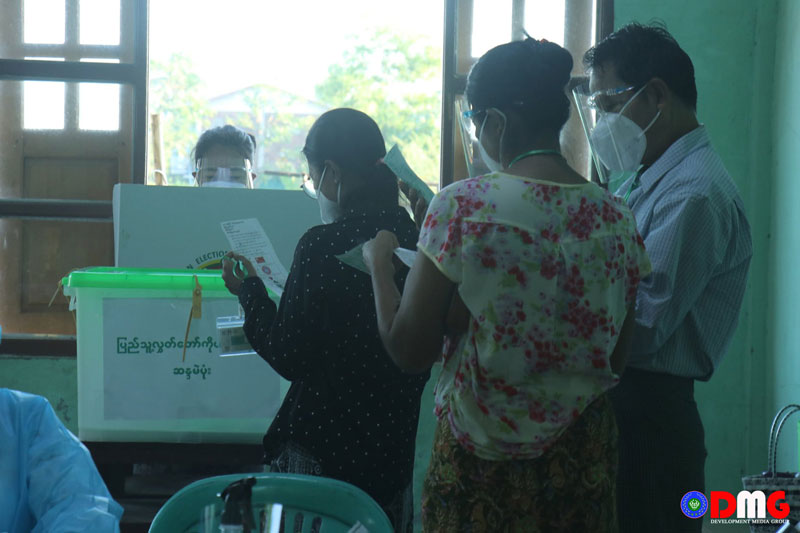 Hnin Nwe | DMG
8 November 2020, Sittwe

Election Day voting fraud has been alleged in Sittwe Township's Kwetae village-tract, where one candidate says he witnessed people attempting to cast "substitute" ballots on behalf of voters who did not come to the polls.

U Naing Soe, an independent candidate contesting an Arakan State legislature seat in Sittwe Township, said he discovered people outside polling stations trying to vote on behalf of others not present using the absent voters' evidence certificate, a business card-sized document that is used in conjunction with a national registration card (NRC) to verify a voter's identity.

"They did not enter the booths. That was happening outside polling stations," he said. "The ward/village election subcommission had been trying to substitute those not on the list with the actual voters' evidence certificates who were absent."

He said local election officials failed to require the double document verification at polling stations.

"This sort of cheating happened because the commission allowed people to vote only with the voting evidence certificate alone," he explained.

"It should ask for both the NRC and voting evidence certificate and let them vote only if they can show both documents. I discovered many instances of voting fraud," U Naing Soe claimed.

He said the township election subcommission had been informed of the alleged voting fraud.

However, the Kwetae village-tract election subcommission chairman, U Maung Saw Phyu, told DMG that there were no such attempts to give proxy votes. He added that there were no voting irregularities or other Election Day problems reported in the village-tract on Sunday.

There were three polling stations and 2,757 eligible voters in the villages of Kwetae, Kyauktangyi and Paik Seikkyi, which make up the village-tract.

Sixteen candidates from the Union Solidarity Development Party (USDP), Arakan National Party (ANP), Arakan Front Party (AFP), National League for Democracy (NLD) and an independent candidate contested the November 8 general election in Sittwe Township.