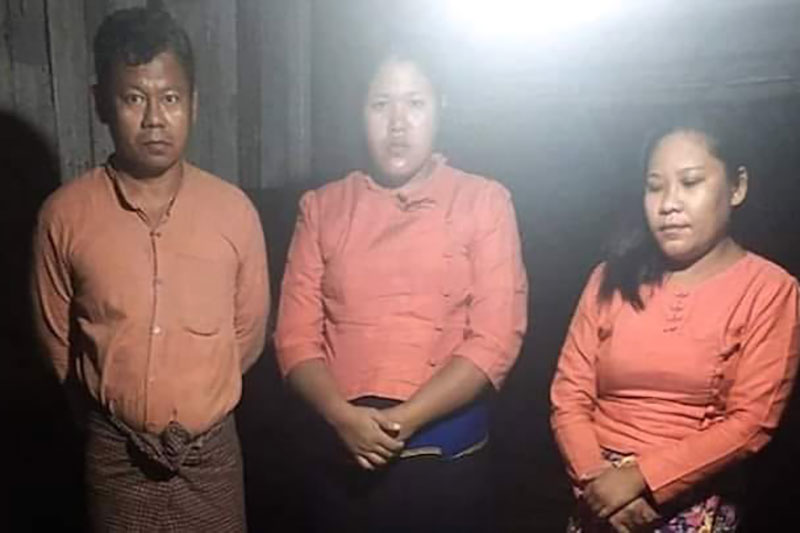 Aung Htein | DMG
9 November 2020, Taungup

In the aftermath of an anticipated National League for Democracy (NLD) defeat in Arakan State's Taungup Township, party representatives are pointing to the abduction of its three candidates to explain the outcome.

On October 14, the Arakan Army (AA) forcibly detained three NLD candidates contesting Taungup Township constituencies — Daw Ni Ni May Myint, running for the Pyithu Hluttaw seat; U Min Aung, a candidate for the Arakan State legislature; and Daw Chit Chit Chaw, who was vying for the township's Amyotha Hluttaw seat.

The NLD trio, while still in AA custody, lost their races to Arakan National Party (ANP) opponents in Sunday's general election, according to preliminary vote counts from the political parties.

"When there is no one to go to the front line, we have to do some work, although we are the election representatives. We were not allowed to try to win the election because the candidates were arrested," said U Thet Tun, an election campaigner for U Min Aung.

According to election tabulations provided by the various political parties, the ANP received 4,633 votes in the Arakan State legislature race, 5,069 votes in the Lower House and 5,015 votes in the Upper House, while the ruling NLD secured 3,766, 4,186, and 4,321 votes those races, respectively.

Even prior to being forcibly taken off the campaign trail in mid-October, the NLD's Taungup candidates had not been able to campaign full-time during the election's 60-day canvassing period due to security concerns, U Thet Tun added.

The three candidates were still being detained by the Arakan Army as of November 9, the day after ballots were cast.

"The arrest of the three candidates has been linked to their election defeat," said U Tin Thein Aung, chair of the NLD in Taungup Township.

Twenty-eight polling stations were set up in the four Taungup Township wards permitted to hold voting, with 15,602 out of 21,808 eligible voters casting ballots in Sunday's election. The majority of Taungup, including the entirety of one of its Arakan State assembly constituencies, was unable to vote, with the Union Election Commission (UEC) citing security concerns in explaining the cancellations.

Parliamentary hopefuls from the ANP, NLD, Union Solidarity and Development Party and Arakan League for Democracy, as well as an independent candidate, contested for seats representing Taungup Township in the three legislative chambers.

If the preliminary election tallies hold, the ANP will have achieved a full flip of Taungup Township, where the NLD won every seat in the 2015 general election.

As yet, there have been few official election results certified by the UEC, with statements from the respective political parties providing the best early indications of election outcomes.