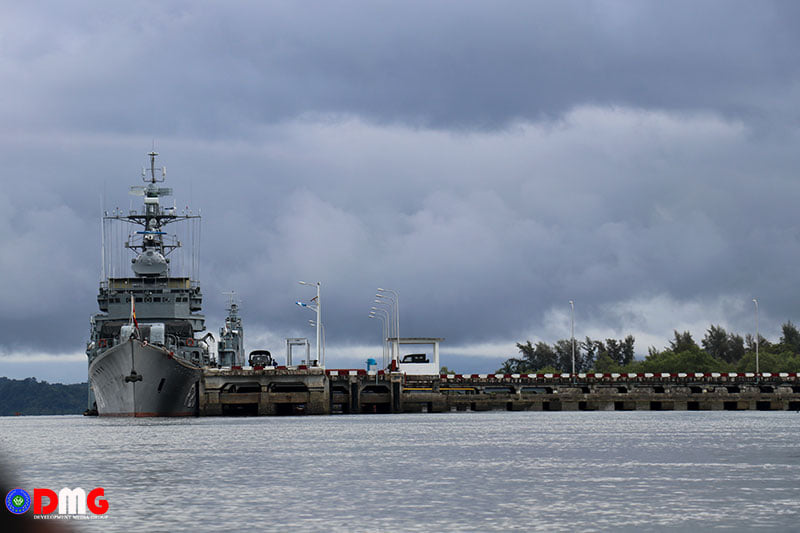 Thiha | DMG
11 November 2020, Kyaukphyu 
Local residents on Kyaukphyu Township's Maday Island who make a living fishing are finding it difficult to secure their livelihood as security personnel at the Danyawaddy naval base, located near the island, have recently tightened security checks.  
"In the first week of November, the Navy personnel interrogated a couple of fishermen by slapping their faces. And they also fired warning shots at a fishing boat that didn't hear them calling," island resident Ko Maung Maung Than told DMG: 
"They stop all the vessels and boats in the sea and check the citizenship IDs and household registration certificates of all those on board. So, no one dares to go into the sea now, day or night," he added. 
The tightened security checks have forced many local fishermen to pawn their belongings to make ends meet, he said. 
Local fishery businessman U Khin Maung Nyunt said: "COVID-19 has affected some 80% of the business. And it's been further plagued by armed conflict." 
Local fishermen have not been able to go fishing at night because dusk-to-dawn curfews are in effect across Arakan State. 
Maday islanders rely on mainland Kyaukphyu for business and food supplies, and locals also reported that Navy personnel are checking their citizenship IDs and household registration certificates whenever they go to Kyaukphyu. 
Arakan State Parliament lawmaker U Poe San of Kyaukphyu Township has called for government intervention. 
"The government should systematically address this. Just giving a K20,000 handout doesn't help them," he said.  
Though there has been no recent fighting in Kyaukphyu and Thandwe districts, the Myanmar military has detained nearly 50 people on suspicion of having ties to the Arakan Army (AA). 
A local resident in Kyaukphyu was allegedly shot dead by the military on November 4. The Tatmadaw has claimed the victim was carrying explosives.