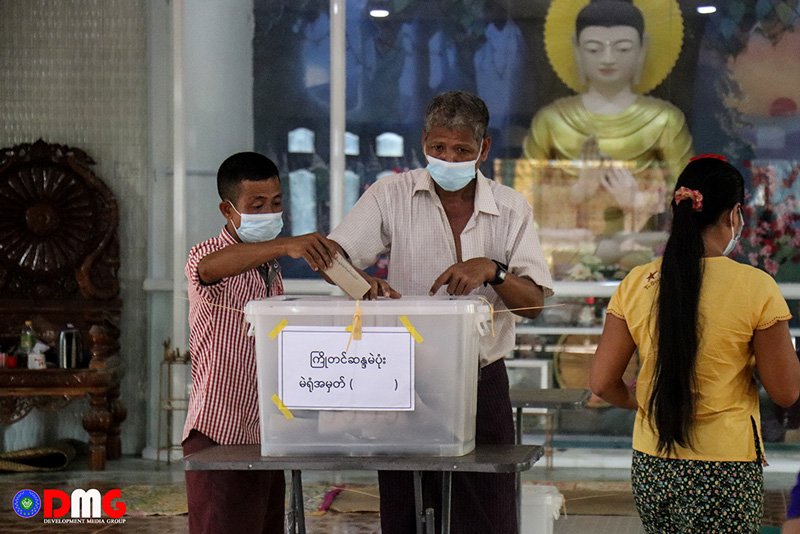 Min Tun | DMG
12 November 2020, Sittwe 
Myanmar's electoral authorities have rejected claims by some political parties that Sunday's general election was unfair.  
In response to accusations of election fraud and malpractice in the November 8 vote, Union Election Commission (UEC) member U Myint Naing replied: "They were just unfounded allegations made by a minority."   
"It is just an accusation by a minority of parties. Democracy is about respecting the will of the majority," U Myint Naing told reporters on Wednesday in Nay Pyi Taw. "There is no evidence that the election was unfair. The elections were conducted freely and fairly. Most parties have accepted and recognised the results, though there were errors in electoral processes."  
U Myint Naing said the election was held successfully, noting that voter turnout was high despite the unprecedented challenges posed by the COVID-19 pandemic.  
Beyond questions of fairness, some have criticised the pace of election outcome reporting by the UEC. U Myint Naing pointed out that it took 10 days before election officials announced the final official results of the last general election in 2015.   
"We have to count the votes candidates have received and voter turnout, which takes time. The aggregated results are announced by regional and state election subcommissions and the UEC makes overall announcements based on the results from the respective subcommissions," he explained. 
The UEC had announced the winners in just under half of the November 8 races as of November 11 at 7 p.m., with full results expected early next week.