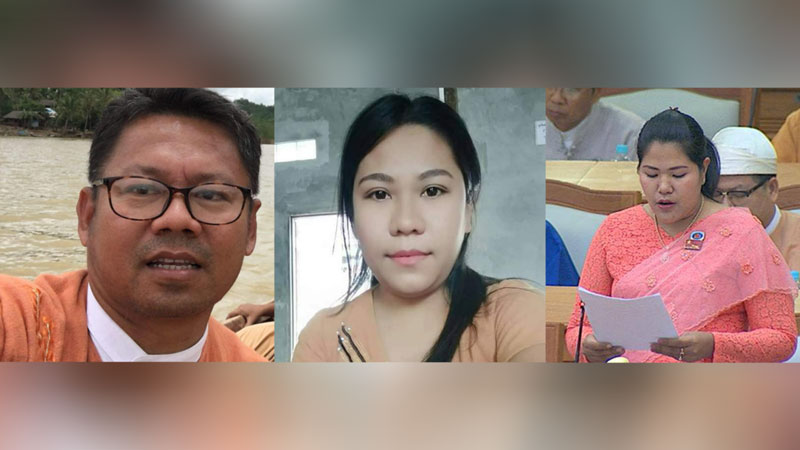 Khin Tharaphy Oo | DMG
19 November 2020, Sittwe 
The National League for Democracy (NLD) on Wednesday reiterated calls for the release of three of the party's candidates who were abducted by the Arakan Army (AA) during election campaigning last month. 
The three NLD candidates — Daw Ni Ni May Myint, Daw Chit Chit Chaw and U Min Aung — were detained by the Arakan Army while on the campaign trail in Taungup Township on October 14. 
In its November 18 statement, the NLD also offered praise to its Taungup Township candidates for contesting the election despite dangers in Arakan State. The three candidates, running for seats representing Taungup in the Lower and Upper houses of Parliament and a seat in the Arakan State legislature, ultimately did not win those contests.  
The NLD statement marked the second time the party has called for the release of its candidates. On October 22, it also released a statement, saying the abductions could be a major obstacle to advancing Myanmar's peace process in the future. Government troops and the Arakan Army have been clashing in Arakan State since late 2018. 
NLD spokesman Dr. Myo Nyunt said the targeting of candidates during campaigning was detrimental to democracy. The party lost some seats in southern Arakan State that it had won in the 2015 general election, he acknowledged, while blaming the losses on the kidnapping and threats against party members in some townships.    
"It was mainly because three of our candidates were detained, and seven others were threatened for doing party tasks. So, we were not able to campaign like other parties," said the NLD spokesman. 
"And we were perceived by voters as a party that is disliked by an armed group, and this prevented them from voting freely. The abduction of three candidates and armed groups' influence on the election were important factors in the defeat of our party," he added. 
Wednesday's NLD statement also praised ethnic parties that won seats in the November 8 elections, and invited them to join hands for the establishment of a democratic, federal union. 
The Arakan Army has said it will release the NLD candidates if the government releases politicians, students and other Arakanese people it has wrongfully arrested.