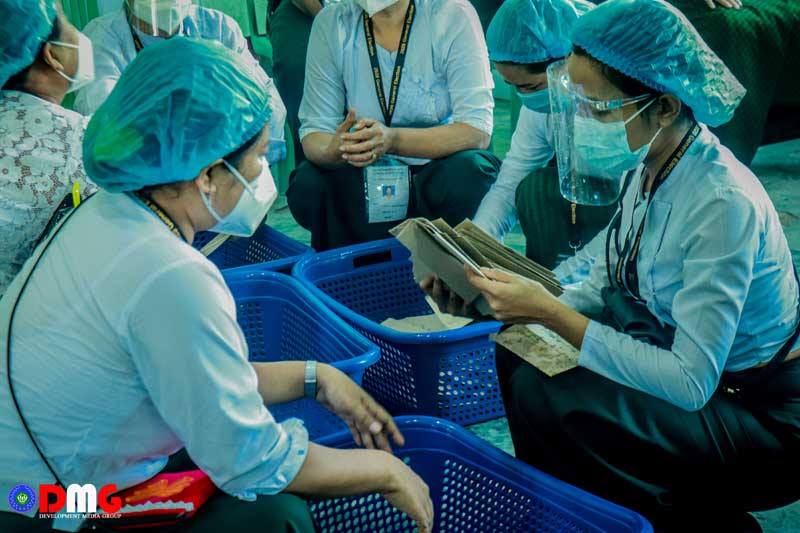 Min Tun | DMG
22 November 2020, Sittwe 
About one-fifth of the female candidates who ran in this month's general election for seats in Arakan State emerged victorious, including two women who will be only the second and third sworn in as lawmakers in the state legislature.  
Four out of 21 women candidates who contested the Arakan State elections won, all of them from the Arakan National Party (ANP). 
In addition to the ANP foursome, there were six women from the National League for Democracy (NLD), two from the Union Solidarity and Development Party (USDP), one from the Arakan Front Party (AFP), three from the Arakan League for Democracy (ALD), three from the Rakhine National Force Party and two independent candidates. 
Broken down by legislative chamber, six women ran for Pyithu Hluttaw seats in Arakan State, five for the Amyotha Hluttaw and 10 for the state Hluttaw. 
The winners had contested the Pyithu Hluttaw seat for Taungup Township; Amyotha Hluttaw constituency No. 1 (comprising Kyaukphyu and Manaung townships); Arakan State Hluttaw constituency No. 2 seat for Manaung Township; and state Hluttaw constituency No. 2 for Taungup Township. 
Daw Kyawt Sein, chair of the Sittwe-based Rakhine Alin Dagar advocacy group, said her members hoped the new female Hluttaw representatives would actively engage on women's issues and Arakan affairs. 
"We want the women Hluttaw representatives to stand firmly from the Hluttaw for the rights of women and children, and we hope that they will do so," she said. 
Among the second, currently sitting Hluttaw, there are two female representatives from Arakan State in the Amyotha Hluttaw and one in the Pyithu Hluttaw. There is no woman representative in the Arakan State Hluttaw, with two of this month's ANP winners to be sworn in next year as the second and third female members in the chamber's history. 
Daw Hla Thet Soe, who won the Pyithu Hluttaw seat representing Taungup Township, said she planned to work on women's security issues. 
"The main things we have in mind are the security of women's lives and more cooperation of women in politics and women's education," she said. 
There were 154 candidates, including the 21 women candidates, across the 28 seats up for a vote on November 8 in Arakan State, including the state's Chin ethnic affairs minister post.   
A total of 28 women had initially registered to compete in Arakan State, but only 21 ultimately had the opportunity to face voters on November 8 following the cancellation of elections in several constituencies due to conflict in the region.