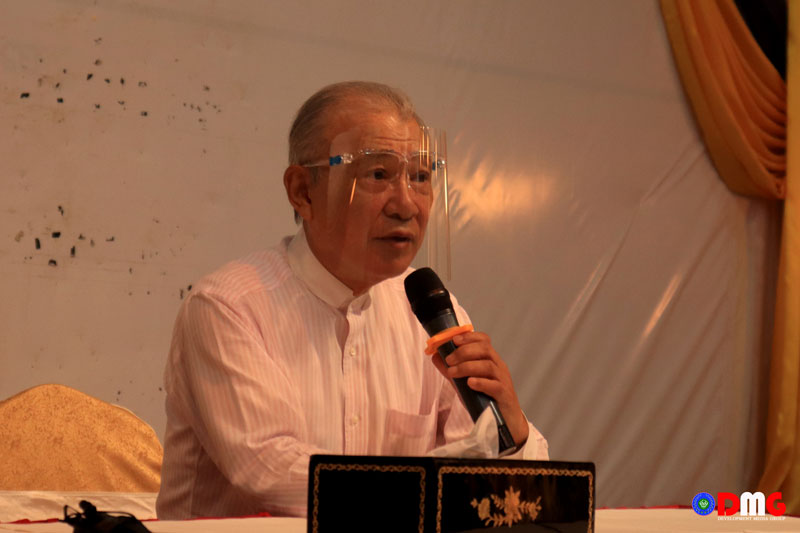 Min Tun & Aung Htein | DMG
28 November, Sittwe
Yohei Sasakawa, Japan's special envoy for national reconciliation in Myanmar, said conditions in northern Arakan State are stable enough to hold elections, as the envoy and his team visited Buthidaung and Kyauktaw townships on November 28.
Voting was not held in nine Arakan State townships — Buthidaung, Maungdaw, Rathedaung, Pauktaw, Ponnagyun, Kyauktaw, Mrauk-U, Minbya and Myebon — during Myanmar's November 8 general election due to security concerns.
The special envoy said he visited Buthidaung and Kyauktaw because clashes recently took place in those townships, part of a broader swath of Arakan State's northern half that has been plagued by conflict for nearly two years.
"When I interviewed local residents, I found that they have a strong desire for elections to be held. So, we will tell the Union Election Commission [UEC] that it is good to hold elections because of the desire of local people and [acceptable] security conditions in the region, and ask the commission to conduct elections as soon as possible," he said.
Sasakawa said the UEC had previously told him that it would hold voting when security improves in constituencies where elections could not be held on November 8.
The Japanese special envoy and his entourage arrived at the Arakan State capital Sittwe on Saturday morning, and proceeded to Buthidaung and Kyauktaw townships by helicopter.
He met members of the Arakan National Party, which won the most seats in the Arakan State constituencies that were contested on November 8, in the evening in Sittwe and also spoke to the press.
The Arakan Army has urged the Tatmadaw and the government to hold elections in northern Arakan by year's end, with the military subsequently welcoming the ethnic armed group's suggestion and saying it would coordinate as necessary to try to make that happen.
The European Union on November 9 called for holding by-elections "at the earliest possible" in constituencies where the 2020 general election did not take place.