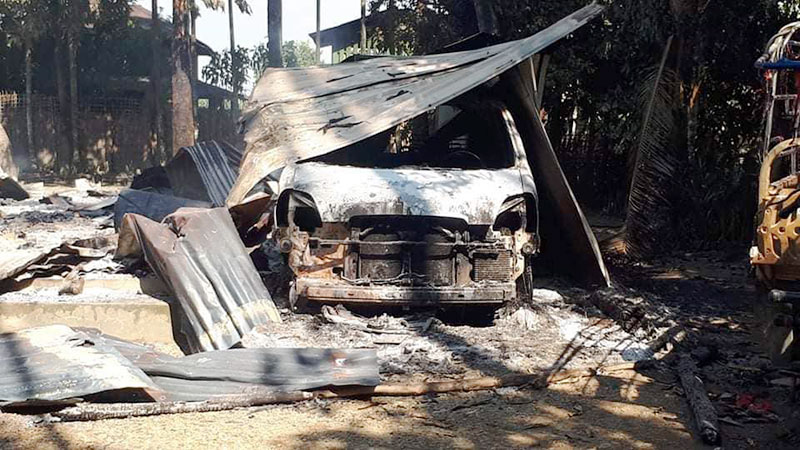 Hnin Nwe | DMG
5 December 2020, Sittwe
Arrangements are being made to build new houses for those whose homes were burnt down during fighting between the Tatmadaw and the Arakan Army (AA) over the course of the two-year-old conflict, according to the Arakan State government.
More than 40,000 internally displaced people (IDPs) are estimated to have returned to their homes in recent weeks due to a cessation of hostilities, but others are reportedly finding it difficult to go back due to the destruction of their former residences. 
The local government is compiling a list of villages ravaged by fire and plans to rehabilitate the fire victims, according to the spokesperson for the Arakan State government, U Win Myint.
"At the moment, we are still compiling a list of villages affected by fire. … The list is not yet known because we have to report to the township, district and state governments through the ward and village administrators to find out who is having problems in the villages," said U Win Myint, who is also the Arakan State Municipal Affairs minister. 
"Once the lists arrive, we will need to discuss and work on different issues."
A total of 2,005 houses from 48 villages in Arakan and Chin states were destroyed by fire since late 2018, when the Tatmadaw-AA conflict began, according to data compiled by the Rakhine Ethnics Congress (REC).
There were also houses destroyed by heavy artillery fire in several Arakan State townships, including Minbya, Mrauk-U, Kyauktaw, Rathedaung and Buthidaung. 
Land reclamation is being carried out in Kyauktaw Township's Phayarpaung and Taungpauk villages after the township administrator pledged to build 40 new houses worth K200 million for residents whose homes were set ablaze in September, locals said.
Many fire victims expect to face difficulties restarting their lives upon returning to home villages because in addition to the roofs over their heads, they lost valuable belongings including gold and stashes of cash. 
"The government said it would build 20 new homes each in Phayarpaung and Taungpauk villages. We have a place to live, but we have nothing to do for livelihood. Everyone wants to get their things back," said U Tun Aye Maung, the Phayarpaung village administrator.
"The government will help the affected people to resume their livelihoods when the fighting stops and the area is completely stable," said U Ye Min Oo, an officer from the Arakan State Department of Disaster Management.
"For those who work in the agricultural sector, we will work with the Department of Agriculture. We will provide assistance to people who run other businesses by contacting respective departments. We will furnish the fire victims with food and cash assistance," he explained.
U Win Myint emphasised the importance of stability and peace in IDPs' areas of return if they are to be successfully rehabilitated. 
"It is important for Arakanese people to be able to sleep peacefully as before. It all depends on those who create the hostilities," he added.