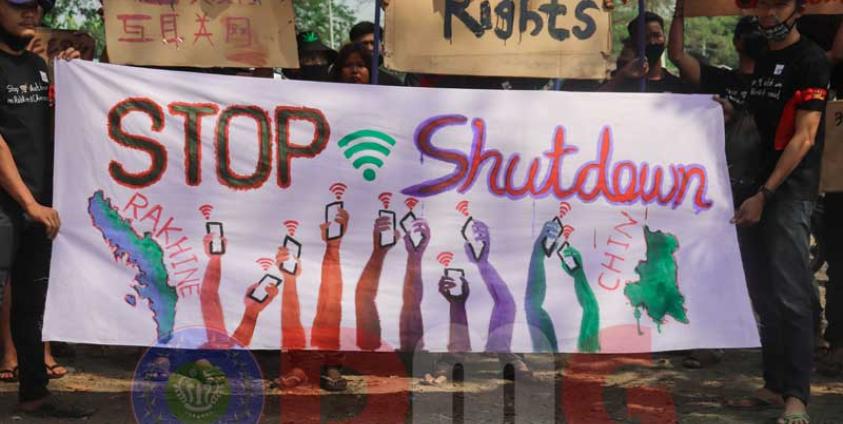 Hnin Nwe | DMG
8 December 2020, Sittwe 
While most students in Myanmar attend online classes due to the coronavirus-related closure of schools this year, children and young adults in northern Arakan State are missing out on many educational opportunities as a result of government-imposed restrictions on internet access. 
Due to the COVID-19 pandemic, primary/secondary schools and universities have been closed across Myanmar for months, leaving most students to take their schooling online.   
But that has not been an option for most students in the Arakan State townships of Minbya, Mrauk-U, Kyauktaw, Ponnagyun, Myebon, Buthidaung and Rathedaung, as well as Chin State's Paletwa Township, where the government continues to throttle online access after first imposing an internet blackout on June 21, 2019.  
"I don't know how long the schools will be closed. You can do nothing with 2G internet access as far as attending any other online courses," said Maung Mrat Min Kyaw, a third-year student of Sittwe Technological University from Mrauk-U, referring to the limited internet connectivity that the government has offered to residents of the affected townships since August of this year.  
"I want to attend online training courses, but when it comes time to fill in the information, I have nothing to do because of the poor internet connection. We have fewer opportunities than people from the areas where internet access is good," he continued. 
Maung Mrat Min Kyaw added that although he was willing to accept that the coronavirus had partially suspended his education, he nonetheless wanted to take online courses like other students in order to limit the amount of "wasted time" caused by the pandemic.  
Ma Kyi Kyi Hla, an internally displaced person at the Nyaungchaung IDP camp in Kyauktaw Township who passed her matriculation exams, demanded that the internet be restored so she could continue her education. 
"People who have access to the internet have no problem with school closures because they are taking online courses and learning what they want to learn. They can become outstanding students. We have no right to know where or what is happening. Internet bans are very detrimental to young aspirants like us," she added.  
Due to the internet shutdown, access to information is constrained and so too is access to education and other opportunities, said Ko Min Than Soe, an educational officer from the Akyab Institute, a Sittwe-based social studies education centre. 
"Some young people are waiting for admission from our school. But when the students were called, they did not know because they did not have internet access. Some students are so eager to take online courses that they go out of town to use the internet at night," he said.  
If Myanmar's next government really takes into account the education of the country's young people, it ought to emphasise the needs of students in places where the internet has been effectively cut off, Ko Min Than Soe said, adding that full online access should be restored as soon as possible. 
Universities across Myanmar were closed in March due to the COVID-19 pandemic, and primary and secondary schools were shut down in August.