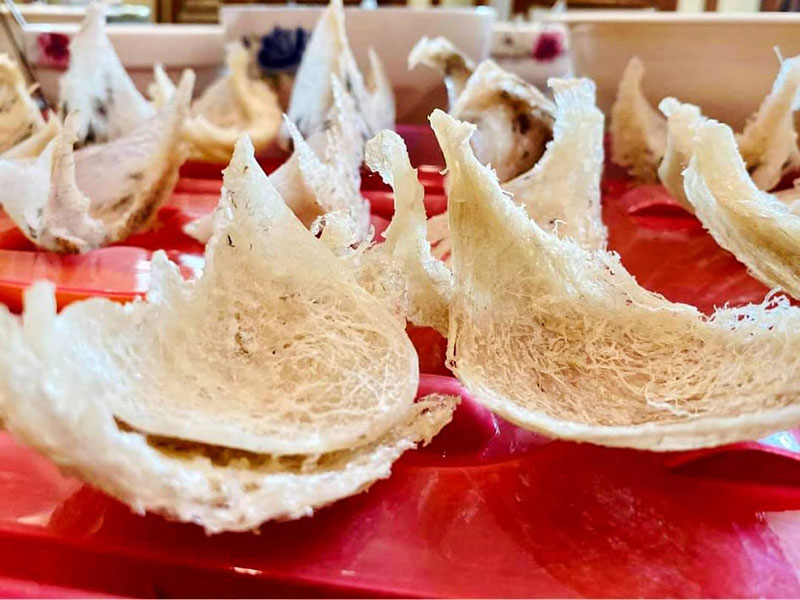 Thiha | DMG
15 December 2020, Sittwe

Kyaukphyu Township in Arakan State has started to produce edible birds' nests from swiftlets, said Dr. Yadana Si, who is leading a family business of "Hnin Taung" birds' nest production.

The birds' nests are produced from the nests of swiftlets that began to move into her house naturally some two years ago, she said.

"Swiftlets started to stay in our house some two years ago. At first, there were only between 20 and 30 nests. The number increases over time. And my mother got the idea to produce birds' nests," said Dr. Yadanar Si.

At present, the family business is using conventional methods to process the nests for consumption, but has been working to apply modern technologies in the production process, she said.

A box of edible birds' nests is sold for K5,000, available online and at Hnin Taung Hotel in Kyaukphyu.

Previously, birds' nests were collected from caves, where they often live. Later nest farming methods were introduced in which swiftlets are induced into making nests by using bird-noise techniques at purpose-built houses. Both methods are in use at present, said ornithologist U Thet Zaw Naing of the Wildlife Conservation Society (WCS) Myanmar.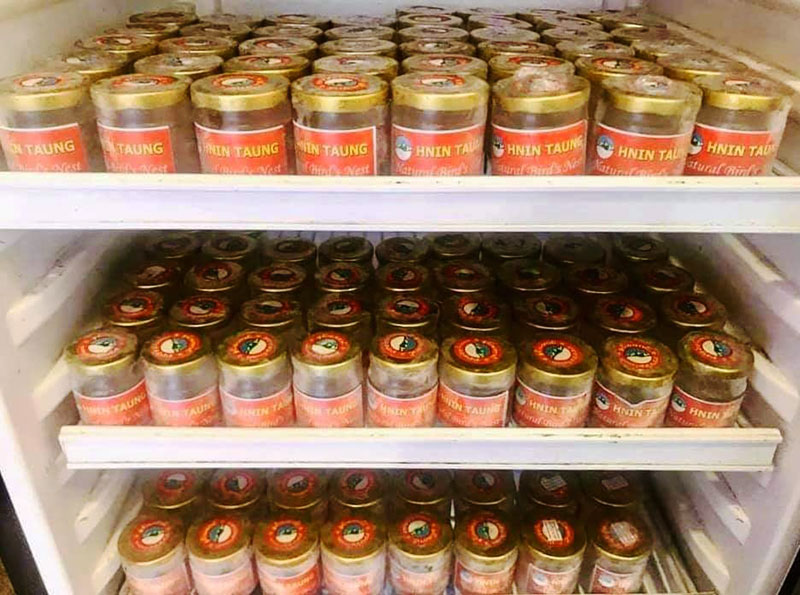 "No matter which method is used, it is important that edible birds' nests are produced responsibly. Producers should avoid making all the nests into edible birds' nests. Only when there are nests, will the swiftlets be able to lay eggs, otherwise they will go extinct," he said.

Swiftlets belong to the swift family and edible birds' nests are created by three species of swiftlets using solidified saliva. They typically live in coastal areas of Myanmar.

Edible birds' nests from Tanintharyi Region are most popular with local consumers. And Tanintharyi is also the main producer of birds' nests.

Dr. Yadana Si said she is still seeking official approval from concerned departments for edible birds' nests production.

Gold shop owner Daw Win Myint of Yangon said: "As we know each other, we always buy birds' nests from them monthly. Previously, I consumed branded birds' nests, which are popular in the market. But I feel that Hnin Taung bird's nest is better. The only setback is that it is perishable, as it is not produced with modern equipment. Still, it is OK if kept in the fridge."

Birds' nests are rich in protein and other nutrients and are good for general well-being and immunity. According to medical research, it also reportedly promotes lung health and can relieve cough and cold.