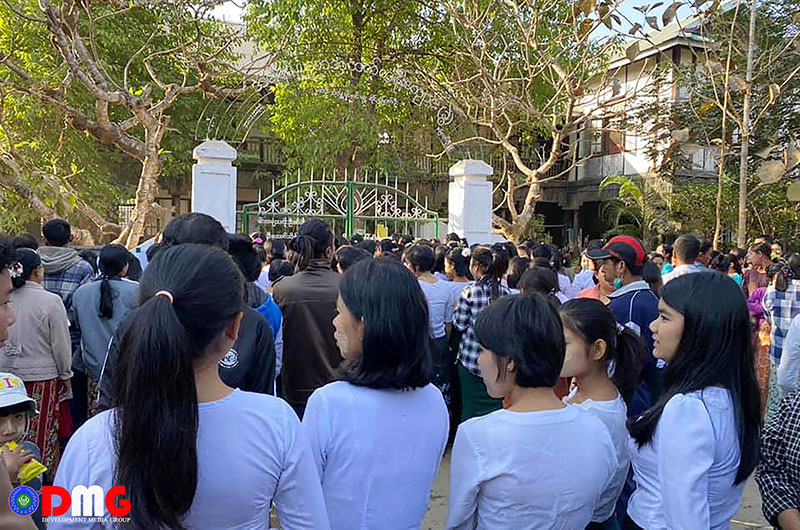 Kyaw Thu Htay | DMG
7 January 2021, Sittwe

Myanmar's Ministry of Education has instructed basic education schools in Arakan State to prepare for the resumption of classes in line with COVID-19 prevention regulations, said the state's Head of Education Office.
U Tin Thein, head of the Arakan State Education Department, said the ministries of Education and Health and Sports are cooperating to resume basic education in-person schooling in Myanmar, though the date for reopening schools has not yet been announced.
"When the Ministry of Health and Sports agrees to reopen schools, we will resume schooling. We are told to prepare to be in line with health regulations that were adopted in July to prevent COVID-19 infection," he said.
U Tin Thein added that the state's Education Department was working with schools in Arakan to meet all virus-related health regulations so that they are ready to resume classes when allowed to reopen, which will depend in part on COVID-19 infection rates.
Dr. Myint Htwe, union minister for Health and Sports, on December 29 said the resumption of schools and universities would depend on how well people adhere to the preventive health regulations set out by his ministry.
From July 21 to August 26 of last year, schools in Myanmar were gradually allowed to reopen if they met certain COVID-19 prevention standards, but they were shuttered once again nationwide on August 27 as community infection rates were rising to concerning levels.