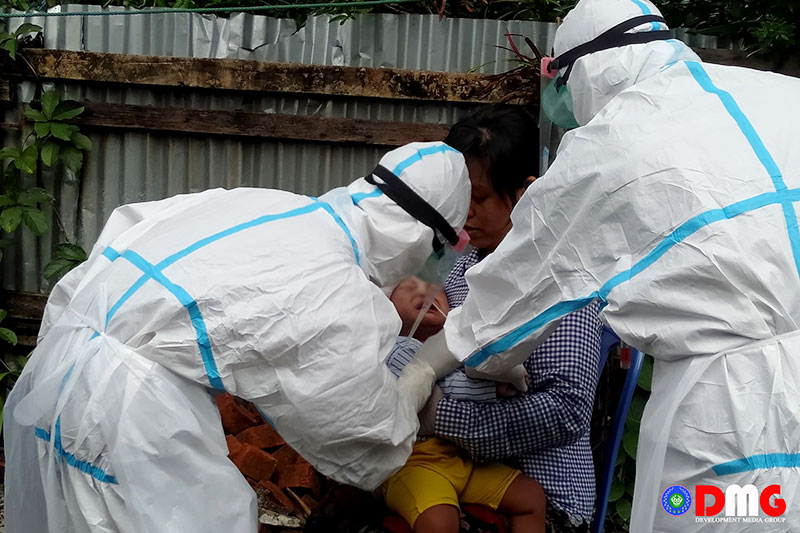 Myo Thiri Kyaw | DMG
8 January 2021, Sittwe

The rate of COVID-19 infection has declined significantly in Arakan State since December, according to the state Department of Public Health.

Dr. Soe Win Paing, assistant director of the department, said: "In the past, 30 out of 100 people tested positive for COVID-19. Since December, there have been no COVID-19 positive cases some days. We've tested 300 or 400 people a day. So, the rate of positive cases is under 1%."

Ko Kyaw Htay Oo, manager of the Arakan Humanitarian Coordination Team, said the quarantine centre at Sittwe University was closed in October as the number of COVID-19 cases began falling.

"The number of positive cases has decreased since the last week of October. The infection rate significantly declined in December. Previously, more than 100 people were under quarantine at two quarantine centres. But there are two infected people now. So, it has declined about 90% compared with the beginning of the second wave of COVID-19 infections," he said.

Dr. Than Tun Oo, medical officer of Kyauktaw Township, said Kyauktaw Hospital was emptied of COVID-19 patients earlier this month.

"It is a week since the COVID-19 infected patients were discharged from the hospital. There is no COVID-19 patient at the hospital" currently, he said.

Quarantine centres in Kyauktaw town have been closed for two weeks but will be reopened if there is a need, either for people who come in close contact with COVID-19 patients or those returning from abroad, said people from an association that is working for the quarantine centres.

To prevent the spread of COVID-19, people in Sittwe Township have been told to stay at home and a Ministry of Health and Sports order allows only one person per household to venture outside the home for provisioning, and just two people for healthcare visits.

The Sittwe District administrator in December announced that travel to different townships for important issues including healthcare and funerals required documents from the relevant ward or village-tract authorities, or would prompt legal action.

The union government on December 29 announced that it was extending stay-at-home orders and other coronavirus-related restrictions until the end of January.

According to figures from the Arakan State Department of Public Health, there were 4,065 COVID-19 cases and 36 deaths in the state as of January 7.