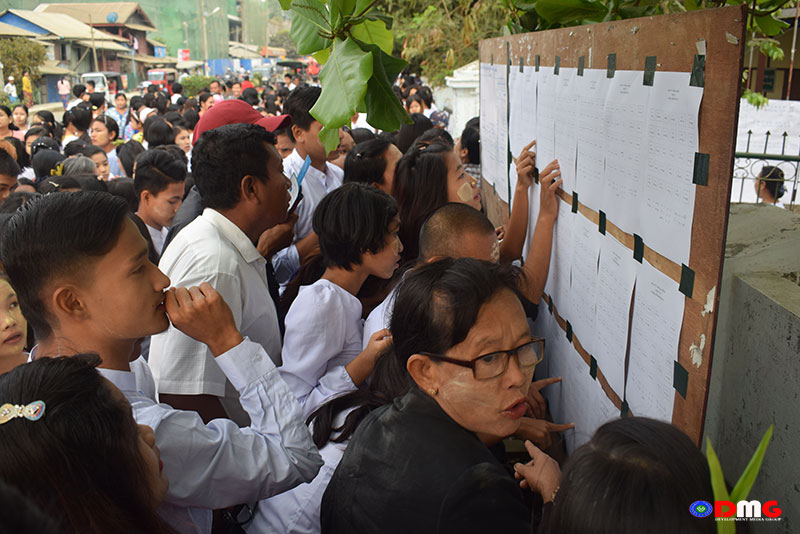 Myo Thiri Kyaw | DMG
15 January 2021, Sittwe

The Ministry of Education has announced that it has arranged to see scores of the 2020 matriculation exams at the website of the Department of Myanmar Examinations through mobile phone or alternative online means free of charge as of January 17.
However, students from Ponnagyun, Kyauktaw, Mrauk-U, Minbya, Myebon, Buthidaung and Rathedaung townships, where only 2G internet access is currently provided, will likely not have the opportunity to see the exam scores.
Ma May Thazin, a resident of Mrauk-U Township who passed the matriculation exam, said students from Arakan State are facing difficulty to see the exam scores though students throughout Myanmar can see their exam score online.
"We cannot see our exam score ourselves because there is not sufficient internet access in our area. Other students throughout Myanmar can see their exam scores from their home. For us, we will have to ask other people from where internet access is good enough and we can know our exam score if they help us," she said.
Students can visit this online link and fill in their roll number and birthday to see their exam score.
The Ministry of Education has also said students do not need to apply for the exam score at relevant education offices.
Most students are studying basic education lessons and other subjects online while in-person schooling is largely suspended throughout Myanmar due to the COVID-19 pandemic.
But students from the townships in Arakan State where internet access is restricted are losing the rights to access education and job opportunities as well as losing their ability to see exam scores, students from the affected townships said.
Mg Soe Nyein Kyaw, a resident of Kyauktaw Township who passed the matriculation exam, said, "I want to join some training while schools and universities are suspended.
But I cannot join because we do not have sufficient internet access. I want to request to restore 4G internet here if the government considers it for the education of the students."
When matriculation exam results were released in July of last year, students from the townships where the internet shutdown was imposed were unable to check their exam results online.