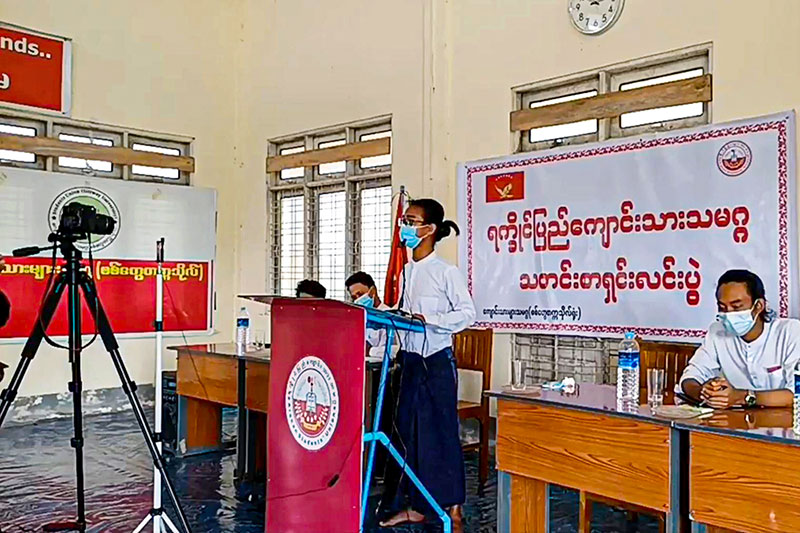 Nyan Hein | DMG
18 January 2021, Sittwe 
The Arakan Students' Union has criticised the government for detaining anti-war student protesters for more than three months without trial. 
Concerned student unions were also barred from visiting the detained students, with prison authorities using COVID-19 as an excuse, claimed Ko Toe Toe Aung of the Sittwe University Students' Union at a press conference on Monday. 
"The detained students were unfairly charged under Section 505(a), (b) [of the Penal Code] and have been kept in prisons for more than three months without court hearings. And prisons are using COVID-19 as an excuse to bar detained students from contacting concerned organisations," said Ko Toe Toe Aung, who chairs the Sittwe student union. 
The Arakan Students' Union organised a campaign in the Arakan State capital Sittwe on Friday, calling on the government to unconditionally release student activists and political prisoners being detained in prisons across the country. 
At Monday's press conference, the students' union also condemned the Education Ministry for keeping silent about the killing of education staff in the armed conflict in Arakan State. It also denounced the Myanmar National Human Rights Commission (MNHRC) for failing to make field inspections concerning the alleged abduction of Tinma villagers by the Myanmar military. 
"Relatives said the Tinma villagers were abducted by Tatmadaw Division No. 55. They have been missing for more than 10 months, and the MNHRC has not made field inspections," said Ko Toe Toe Aung. 
MNHRC Chairman U Hla Myint told DMG that the commission has been unable to make inspections into alleged human rights violations in Arakan State due to COVID-19 travel restrictions. 
The Tatmadaw's Light Infantry Division No. 55 detained eight villagers from "new" Tinma village on March 13 of last year, and 10 people from Tinmagyi village on March 16, according to the detainees' families. 
The government has only responded to calls for full resumption of internet services in Arakan State by prosecuting the campaigners, said Ko Kyaw Nyein Tun, an external relations officer for the Arakan Students' Union. 
"We — members of the Arakan Students' Union, lawmakers and civil society organisations — have conducted a lot of campaigns, calling on the government to lift the internet blackout in Arakan State. And the government has opened cases against the activists under the Peaceful Assembly and Procession Law," he said. 
The government imposed an initial internet shutdown in the Arakan State townships of Buthidaung, Maungdaw, Rathedaung, Ponnagyun, Kyauktaw, Myebon, Mrauk-U and Minbya, as well as Paletwa Township in Chin State, on June 21, 2019. 
Restrictions were eased by August of last year to allow for 2G access, but the inadequacy of that network has been well-documented in the months since.