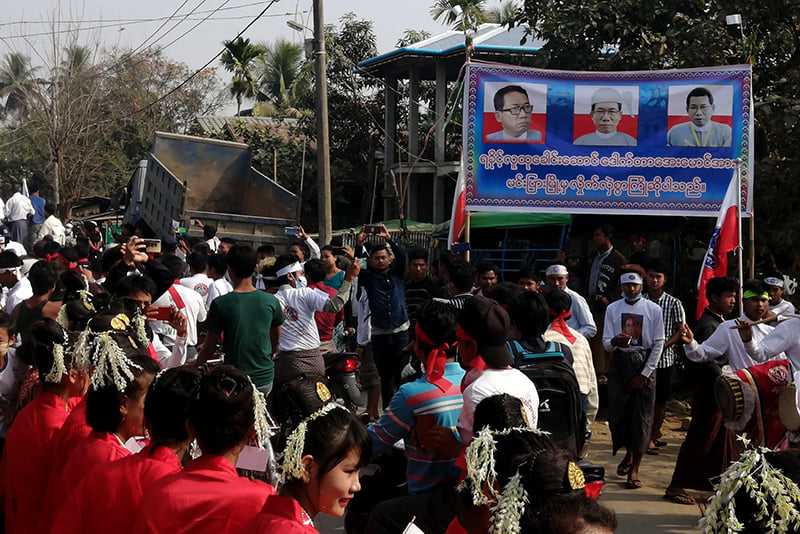 DMG Newsroom
27 February 2021, Sittwe 
The prominent Arakanese politician Dr. Aye Maung, who was recently released from prison as part of a mass amnesty by the military government, has embarked on a multi-township tour of Arakan State. 
During the trip, Dr. Aye Maung is scheduled to pay homage to historical pagodas and Buddhist monks in Sittwe, Ponnagyun, Kyauktaw, Mrauk-U, Minbya, Myebon, Ann, Taungup, Kyaukphyu, Ramree and Thandwe townships. If invited to do so, he will also meet with internally displaced people (IDPs) sheltering at IDP camps. 
U Aung Than Wai, who is taking part in the trip, said Dr. Aye Maung would travel to the IDP camps and "give encouraging speeches to the IDPs." 
On February 26, Dr. Aye Maung visited Tin Nyo IDP camp in Mrauk-U Township, where the veteran politician was warmly welcomed by about 4,000 people. He visited Minbya Township on Saturday and met with about 5,000 locals.
"We are now heading to Ann Township and I don't know what our next trip is," said U Aung Than Wai. 
In March 2019, Dr. Aye Maung was sentenced to 20 years in prison for high treason under Article 122 of the Penal Code, and another two years for sedition under Article 505, with the sentences to be served concurrently. He was arrested in January 2018 over remarks he had made earlier that month at an event in Rathedaung Township commemorating the 233rd anniversary of the fall of the Arakan Kingdom to the Burmese. 
Dr. Aye Maung was released from Yangon's Insein Prison on February 12, 2021, as part of a mass amnesty granted by the junta to mark Union Day.  
"I aim to revitalise the Arakan Front Party (AFP), which was formed under my leadership, by conducting awareness campaigns in Arakan State," he said in an exclusive interview with DMG shortly after his release from prison. 
Regarding IDP issues, Dr. Aye Maung said: "We want the Tatmadaw to clear the landmines on a prioritised basis so that the displaced people can return home."