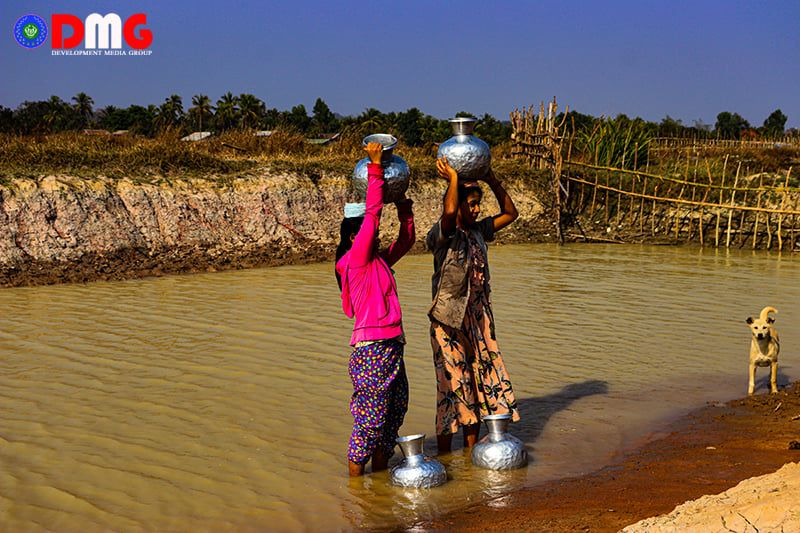 Mrat Swe | DMG
1 March 2021, Sittwe 
Internally displaced people (IDPs) at a camp in a Ponnagyun Township industrial zone are facing water scarcity, and are hoping for water donations from charitable organisations to see them through the meagre times.
IDPs who mainly rely on lakes in Yayphyukan and Yaypaukchaung villages for their drinking water have been forced to buy water from other sources as the lakes have dried up. 
"Those lakes started to dry up in early February. And IDPs are not allowed to fetch water from other sources. So, we have to buy water. The cold season is ending and water shortages can be more serious in the dry season," said camp manager U Maung Aye Shwe. 
Six gallons of water is sold for K1,000, and those who can't afford those prices are being forced to use contaminated water. 
IDPs from four villages in Ponnagyun and two villages in Chin State's Paletwa Township are sheltering in the camp opened at the Ponnagyun Township industrial zone. 
"We have no jobs, and we have to pay for water. We are having serious troubles. We are forced to cut water usage. As the lakes in nearby villages have dried up, we are not allowed to fetch water from other lakes," said Daw Hme Ni, who is taking shelter at the camp.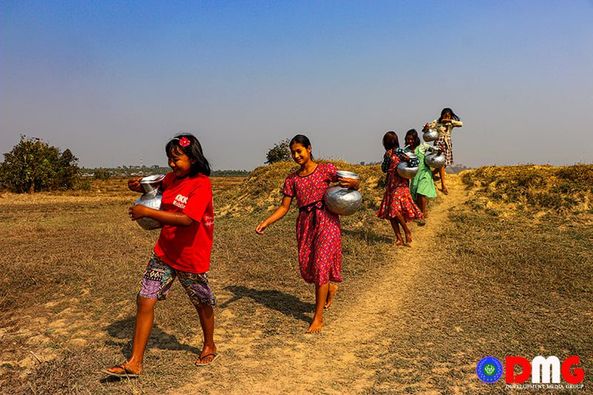 Currently, IDPs who can't afford to buy water are forced to use dirty water out of old ditches left from railroad construction in the area. Elderly people and children who use water from ditches have reported itchiness and diarrhea, according to another IDP, Daw Pu May. 
"The water has caused itchiness and diarrhea in children, and some have had to see doctors. I am worried that more may fall sick in the dry season," Daw Pu May said.
About 900 people from more than 200 households have taken refuge at the IDP camp in Ponnagyun Township. Their water woes have been just part of the problem, as they say they only receive relief supplies from donors sporadically, according to the camp manager.