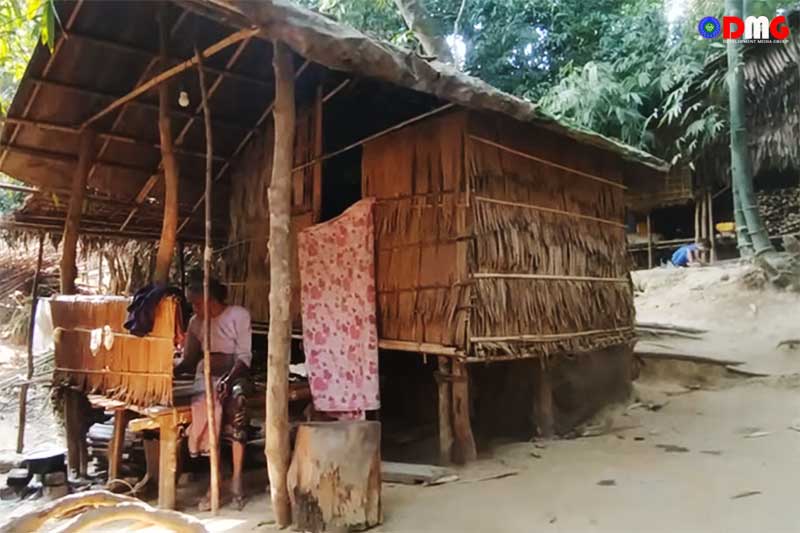 DMG Newsroom
8 March 2021, Buthidaung

Internally displaced people (IDPs) at Zeditaung camp in Buthidaung Township, Arakan State, say they are facing livelihood struggles as long-term camp residents, but remain fearful of what might await them if they were to return home.
Many have been sheltering at the IDP camp since 2019, when a clash broke out between the Tatmadaw and Arakan Army near their villages, prompting them to flee their homes.
U Sein Thar Nyunt, an IDP from Nwayone Taung village, said he could not return home because of past clashes near the village and Tatmadaw troops stationed in the village.
"I want to return home. I want to see our houses that are destroyed," he said. "I want to clear landmines in the village. I want authorities to repair our destroyed houses. My house was destroyed as an artillery shell landed, but I haven't been able to repair it."
U Sein Thar Nyunt cuts firewood for a living, and currently lives at the Zeditaung IDP camp with his wife. He says they face livelihood difficulties because firewood is not selling well these days.
Daw Hla Sein Nu, an IDP from Sabahtar village, said she could not return home due to Tatmadaw troops stationed at the village. Her house was also destroyed during the fighting.
She said she could not work as she was old and dependent on her children. They too face livelihood precarity when the children are unable to find work, she said.
"I want to return home but I dare not. We are facing difficulty for our livelihood at the camp. My children are cutting wood and bamboo to generate income. If there are buyers, we can eat," she said.
"We cannot afford to get medical treatment if someone is sick. As an old woman, I want help for us," she added.
Only the Ministry of Social Welfare, Relief and Resettlement provides rice for the Zeditaung IDP camp at the moment, and the World Food Programme (WFP) has not provided relief aid so far, said U Kyaw Than, manager of the camp.
"The ministry provides rice twice a month. It provides two tins of rice per person per day. The IDPs need kitchenware. They need cooking oil, chilis and onions. I want the ministry to provide these basic foods," U Kyaw Than said.
More than 1,800 people from over 300 households are sheltering at Zeditaung IDP camp, having fled from villages in both Buthidaung Township and neighbouring Rathedaung Township.