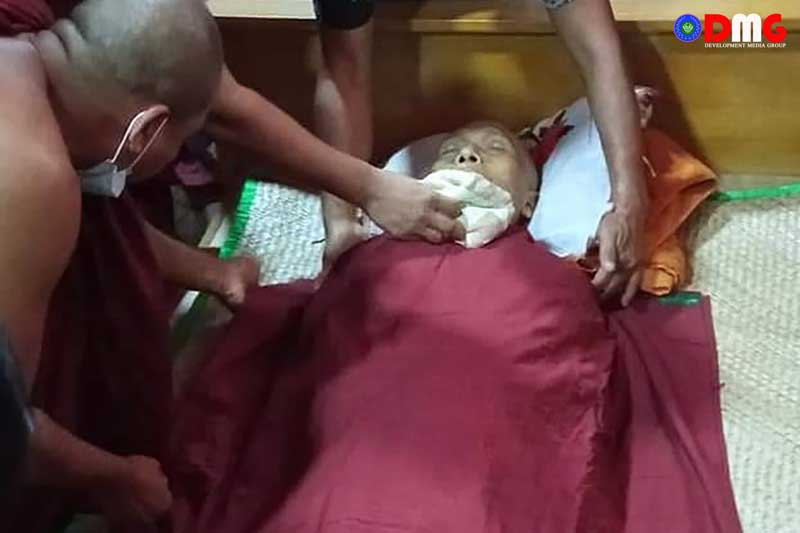 DMG Newsroom
9 March 2021, Thandwe

The funeral for Venerable Dwaravati Ashin Kusala, a prominent Arakanese historian and writer who had lived in Aung Myay Thar Si Pariyatti Monastery in Thandwe, Arakan State, will begin on April 3, officials said.

Sayadaw Dwaravati Ashin Kusala (Ngwe Thazin) had to undergo a kidney transplant due to kidney failure. The monk passed away suddenly on March 7, and his body will be laid to rest on April 3, said Daw Mi Mi Khaing, one of his disciples.

"The funeral service of the Buddhist monk is scheduled to begin on April 3 and his body will be cremated on April 4. The Dhamma talk to mark the funeral of the monk will be held over five days, from March 29 to April 2," she said.

She added that the passing of a devout monk in Thandwe Township was a great loss for the township, as well as for Arakan State, religion and Arakanese literature.

The Buddhist monk was born in 1961 and was 60 years old — having spent 40 of those years in the monkhood — at the time of his death. The abbot began writing at the age of 15 and began writing articles in 1984 for Ngwetaryi Magazine.

He wrote more than 600 articles under the pen names of Ngwe Thazin (Thandwe) and Venerable Dwaravati Ashin Kusala.

The abbot has also published more than 20 books and was conferred the Gandawasaka Pandita, a religious title, by the government.

The Sayadaw has been praised as having been instrumental in researching Arakan history and culture, as well as developing new Arakan literature courses.