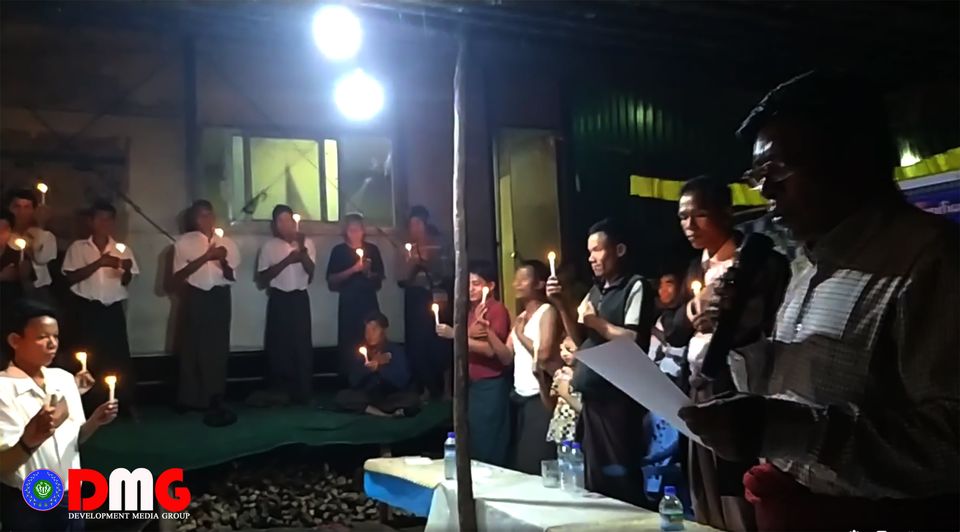 DMG Newsroom
12 March 2021, Kyauktaw 
A memorial service for those killed in fighting between the Tatmadaw and Arakan Army was held at Naypukhan camp for internally displaced people (IDPs) in Kyauktaw Township, Arakan State, on March 11. 
The evening event was held to remember those killed in armed conflicts and to mark the one-year anniversary of becoming IDPs and taking shelter at the displacement camp, said U Aye Saw, the manager of Naypukhan IDP camp. 
"Some people were killed in armed conflicts and some innocent people were imprisoned for various reasons. We mourn with the families of those killed in the war and those imprisoned," he said. 
He said they prayed for the release of those arrested on suspicion during the fighting and those who had died. 
"If the victims are to be released in the next life, we will pray for them to return to Arakan State when it is politically peaceful and prosperous," he said.
More than 1,700 IDPs from 12 villages in Kyauktaw Township are currently sheltering at the camp. 
Hundreds of civilians were killed during the conflict between the military and Arakan Army, and according to the Thazin Legal Institute more than 360 people were arrested on suspicion of having ties to the Arakan Army over the course of hostilities.