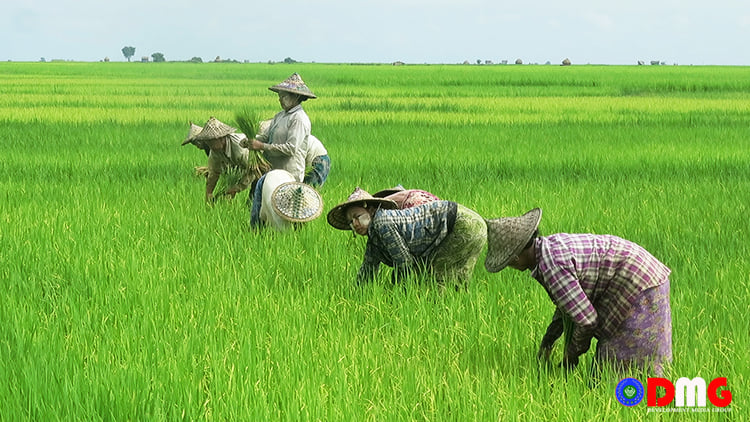 DMG Newsroom
5 April 2021, Sittwe 
Farmers have been told to repay their agricultural loans by April 15 this year, according to an official from the Myanmar Agricultural Development Bank (MADB) in Arakan State. 
The loans were disbursed to farmers last year for cultivating monsoon paddy. 
But the number of famers who have repaid their loans to date has decreased by 50%, said U Aye Thein, manager of the MADB in Arakan State. 
"I think farmers will face difficulty repaying the loans," he told DMG. "They are told to repay by April 15." 
U Aung Thaung, the administrator of Magyi Kyun village-tract in Ramree Township, said letters indicating the last date for farmers to repay agricultural loans have been posted on utility poles. 
"Authorities from the township level invited village-tract administrators and instructed them to alert farmers to repay agricultural loans. We posted the letters at the end of March," he said. 
U Soe Naing, a farmer from Tin Nyo village in Mrauk-U Township, said deferment should be granted because farmers are struggling to repay their loans at the moment. 
"Farmers from our village could not harvest their paddy because of the clashes," he said, referring to past conflict between Myanmar's military (Tatmadaw) and the Arakan Army (AA). "Farmers cannot buy paddy strains to grow in the coming monsoon, let alone repay the loans. If possible, we want the bank to defer the payment," he said.  
The Committee Representing Pyidaungsu Hluttaw (CRPH) on March 12 announced that it extended the term of repayment for monsoon paddy agricultural loans disbursed last year from April 15, 2021, to April 15, 2022, in consideration of the welfare of farmers at a time when many facets of Myanmar's economy have been battered by political turmoil across the country.  
Farmers were also slow to repay loans last year, with delinquent borrowers citing the difficulties to farming posed by the Tatmadaw-AA conflict. Farmers normally have to repay their loans by April 15, but last year the deadline was pushed back to May 30. 
In 2019, more than 50,000 acres of farmland in seven Arakan State townships were reportedly left unploughed, largely due to the ongoing hostilities at the time. Last year, there were about 40,000 acres of unploughed farmland in Kyauktaw, Mrauk-U and Minbya townships alone. 
From 2016 and 2019, paddy yields fell 20%, according to a 2019 report from the All Arakan Farmers' Union.