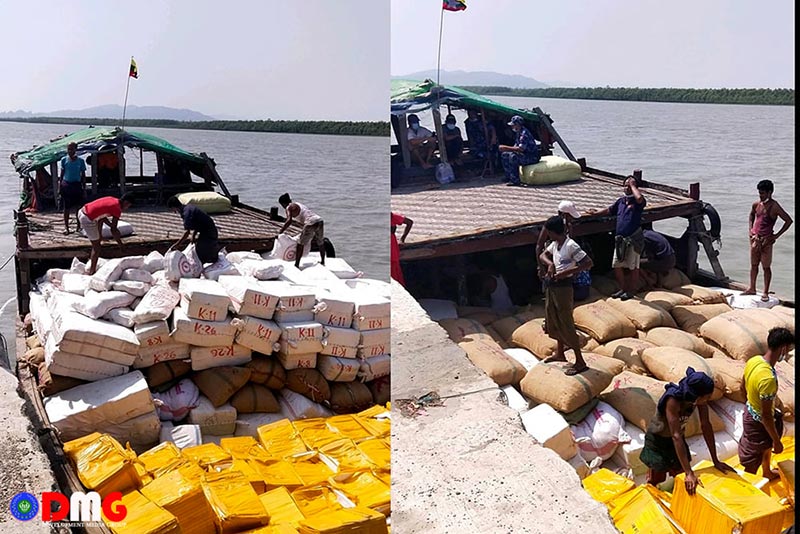 DMG Newsroom
19 April 2021, Maungdaw 
Overcoming the challenges posed by regional conflict and the COVID-19 pandemic, border trade began this month at the Kanyin Chaung economic zone on the outskirts of Maungdaw town, Arakan State. 
Development of the economic zone started in late 2015, aiming to create a trading hub and market for traders wanting to export their goods to Bangladesh. More than five years later, trading has begun.  
The jump-starting of transnational trade at the Kanyin Chaung economic zone will no doubt be music to the ears of local merchants who have fallen on hard times after border commerce at a different trading camp in Maungdaw Township was suspended in July due to COVID-19 concerns. The nine-month suspension came at a cost of about US$50,000 per day, according to the Maungdaw Border Traders Association. 
U Aung Myint Thein, vice chair of Kanyin Chaung economic zone organising committee, confirmed that border trade began there in the second week of April. 
"After the suspension of the border trade [between Myanmar and Bangladesh], it resumed at the Kanyin Chaung economic zone on April 13. The opening ceremony for the economic zone will also be held soon," he said. 
The volume of border trade at Kanyin Chaung economic zone from April 13-18 was more than US$130,000, said an official from the Maungdaw border trade center. 
U Soe Aung, chairman of the Maungdaw District Administration Committee, said COVID-19 precautionary measures have been put in place at border trade facilities. 
"The border trade has intentionally been restarted at Kanyin Chaung economic zone, which is far from Maungdaw town to prevent infection of COVID-19," he said. "Workers are not allowed to enter the town and they are told to stay at a reserved area. They are also tested for COVID-19."