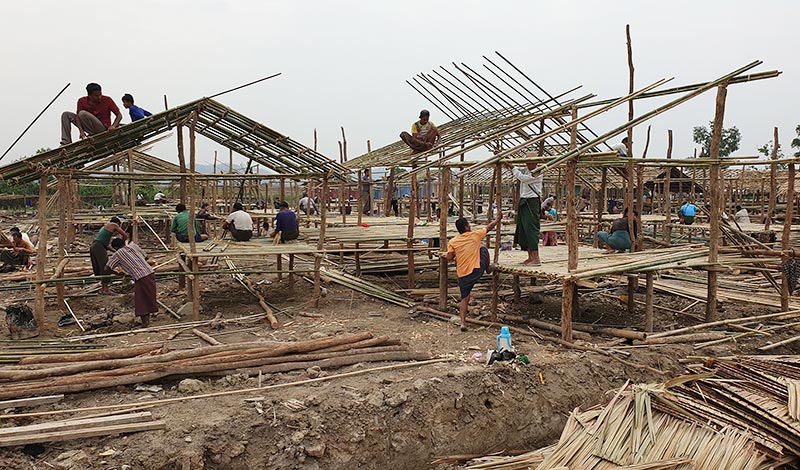 DMG Newsroom
19 April 2021, Mrauk-U 
A total of 400 houses have been built for fire-affected residents of Tin Nyo IDP camp, said the author Wai Hun Aung, who is providing help with the rebuilding effort after hundreds of shelters burned to the ground in a blaze last month. 
More than 650 temporary shelters were reduced to ash when the fire broke out at the Tin Nyo camp for internally displaced people (IDPs) in Arakan State's Mrauk-U Township on March 17, affecting 2,565 people. 
The shelters built in the wake of the fire have been made possible through the financial assistance of donors. 
"IDPs from Letkar and Auk Tha Kan villages are mainly settled at the completed 400 houses," said Wai Hun Aung. 
Another 50 houses are currently under construction, and those involved in the effort hope to have shelters for all IDPs at the Tin Nyo camp by the end of May. 
The new houses are more elevated than those they have replaced so that IDPs can cook under them, and the pathways in the camp are also wider than previously, according to Ko Soe Naing, the camp manager. 
"Now, we have a space under the house to stay [in the shade] in summer and to cook. The new houses are better than the previous houses," he said. 
The Tin Nyo IDP camp hosts a total of 3,355 people from 13 villages who fled fighting between Myanmar's military and the Arakan Army in early 2019.