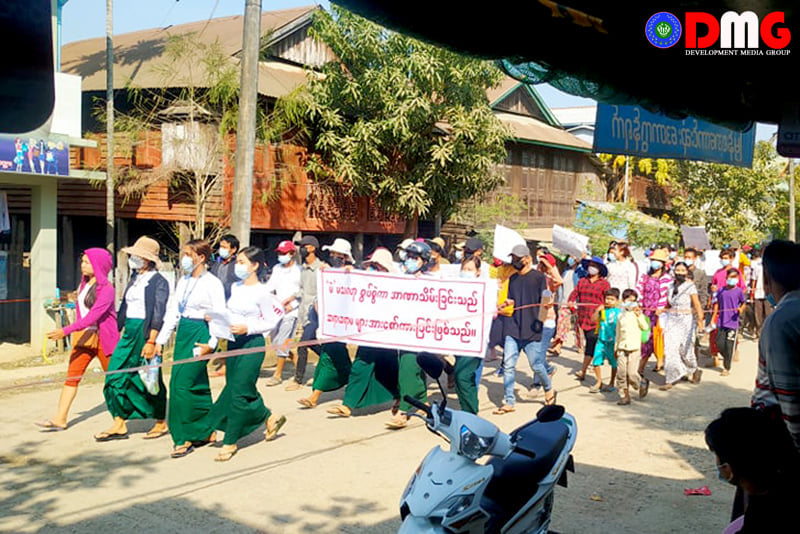 DMG Newsroom
10 May 2021, Sittwe 
Nearly 250 teachers in Arakan State have not yet reported to their respective schools despite the resumption of primary, secondary and high school classes just weeks away, according to the Arakan State education officer's office.  
"There are 241 teachers who have not been able to go to school yet. This includes people who are on medical leave due to health problems, and maternity leave. Of the 241 teachers who have not been able to go to school, more than 90 are from Maungdaw Township," said U Tin Thein, the Arakan State education officer. "The department has not yet issued an order to take action against the teachers who have not yet arrived at their schools." 
Last month the Ministry of Education instructed all teachers to report to their schools on May 3.  
"Teachers have been coming to school since May 3 and have to sign the attendance book. And there is nothing to do at school," a junior assistant teacher in Thandwe District told DMG. "After spending an hour or two at school, I return home. We have not been told how long we have to go to school. The schoolmaster told us to stay until further notice." 
Daw Zin Mrat Mon, a primary assistant teacher in Arakan State's Minbya Township, said that despite the order to report to schools from May 3, some teachers from far-flung areas could not attend regularly due to travel difficulties. 
"It is not difficult for the teachers from downtown areas to go to school, but in areas like ours, it is difficult to travel. As some say, participating in the Civil Disobedience Movement (CDM) does not mean we do not come to school. We aren't making it to school due to travel problems and family health problems," she said. 
Basic education schools across Arakan State will accept student enrolments from May 24-31, and classes will resume on June 1 in line with COVID-19 rules and regulations, U Tin Thein said last week. 
The military regime's push to reopen schools is facing growing resistance, however, with anti-junta forces calling for an education boycott as part of the nationwide Civil Disobedience Movement.