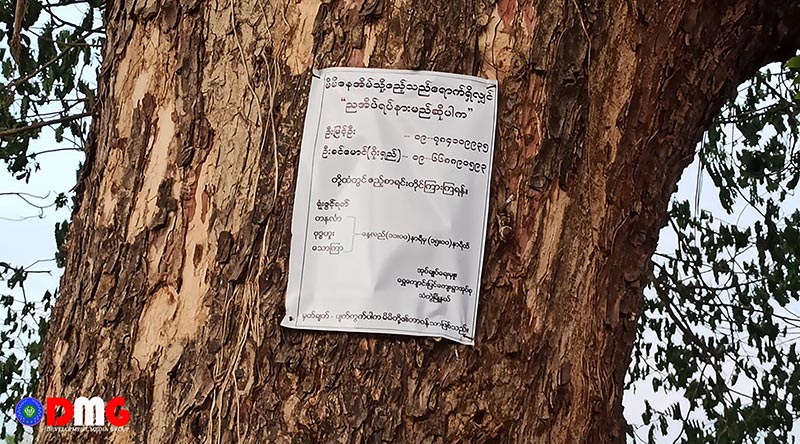 DMG Newsroom
1 June 2021, Thandwe 
The Thandwe Township military council has ordered people in Thandwe to submit overnight guest lists, according to residents. 
U Myint Shwe, the Shwe Kyaung Pyin village-tract administrator in Thandwe Township, said people had to inform their local ward or village-tract administrator's office or 10-household head if guests stay overnight at their house.  
"We were instructed last month to announce it, and it covers the whole township," he said. "If people accept overnight guests, they will have to submit the guest lists to the ward and village-tract administrator's office, or head of the 10-household group or 100-household group of the village. Those who fail to follow the instruction will have action taken against them according to the law." 
Announcements have been made for some but not all village-tracts in Thandwe Township, said Ma Saung Hnin Wai, a resident of Kyaung Tike village in Thandwe Township. 
"We haven't gotten announced; however, we have to voluntarily inform the village administrator if we accept overnight guests. So far, I haven't heard of any action taken against those who fail to do it," she said. 
Although word of the directive to report overnight visitors has widely spread in rural areas outside of Thandwe town, residents of the town itself do not yet know about it, according to a resident living on Yaung Chi Oo Street in Thandwe. 
DMG has sought comment from the township military council regarding the instruction for residents to report overnight visitors. 
The junta on February 13 revived the overnight guest reporting provision of the Ward or Village-tract Administration Law, effectively reimposing mandatory overnight guest registration.  
The law also grants authorities the right to carry out warrantless household inspections. Under Myanmar's previous military regime and the quasi-civilian government that succeeded it, the law was used to hunt down political activists and dissidents. 
According to the legislation, households must report to ward or village administrators regarding the arrival and departure of overnight visitors, with fines of K10,000 or seven days in prison for those failing to report.