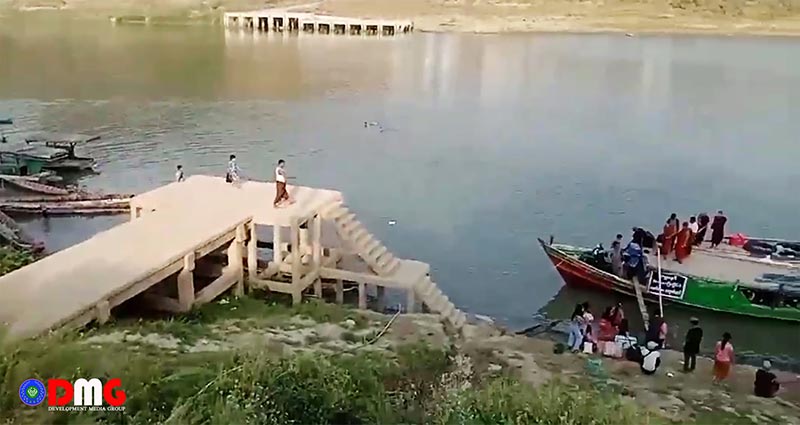 DMG Newsroom
2 June 2021, Paletwa 
The Myanmar regime has since May 28 restricted access to the upper reaches of the Kaladan River, which hosts the main road linking Paletwa in Chin State to Kyauktaw Township in Arakan State, and is the land route leading to Samee and Matupi in Chin State, according to locals. 
Locals say the Myanmar army has restricted access to the town after two sound-bomb blasts in Paletwa on May 28. 
U Maung Maung, a resident of Paletwa, told DMG that the entrance and exit of the town were closed. 
"They have not issued a letter regarding the blockade of the town. However, government officials said that local people should not go. Local people will reportedly be allowed to enter Paletwa only after an outcome in the bomb explosions' investigation is reached. The Myanmar military is currently investigating the matter. Within the town, commodity prices have risen by about 1 percent. I would like to request that the road be opened as soon as possible so that commodity prices do not rise further," he said. 
U Maung Lone, a health worker in Tyron Ai village, said the upper reaches of the Kaladan River in Paletwa town were restricted to traffic, making it difficult for government employees to travel to Paletwa to withdraw their salaries. 
"Entry and exit to Paletwa town was restricted for one or two days. We don't know the reason. Government employees on our side have not even gone to Paletwa to withdraw their salaries," he said. 
In Paletwa Township, since fighting between the military and the Arakan Army (AA) until now, travel permits have to be issued for land and sea travel, and only those who are not allowed to travel are subject to security checkpoints, said U Kham Shin Keit, deputy township administrator. 
"Our office [General Administration Department] has nothing to do with access to this road. When locals travel, we issue travel recommendations. We don't know whether the military will allow locals to travel to other areas or not. We don't know anything about what is happening now," he said. 
Locals say the Myanmar military has arrested at least 10 young people in downtown Paletwa after two sound-bomb blasts at two separate locations on May 28.