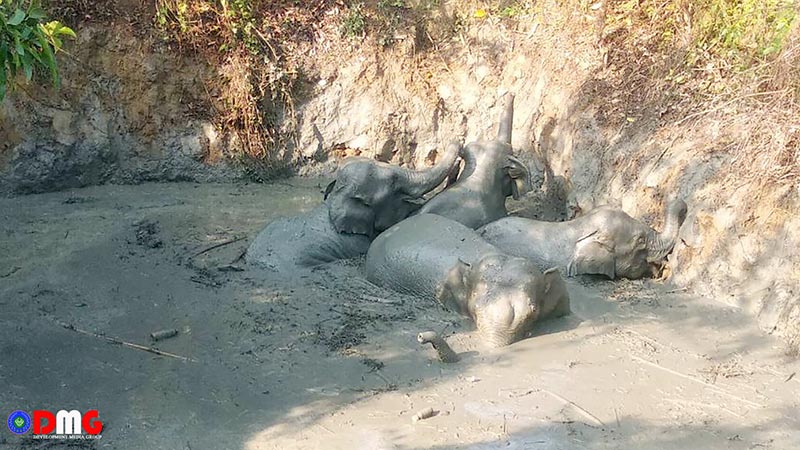 DMG Newsroom
4 June 2021, Maungdaw 
Four wild elephants nearly drowned in a lake near Aung Zeya village, Maungdaw Township, on June 4, according to a former village administrator.  
U Zaw Phyo Tun, the ex-administrator, said: "Yes, I don't know how the wild elephants fell into the lake. When I went to see them this morning, I saw four wild elephants drowning in the mud."  
The lake was sandy-bottomed so the elephants — two large and two small — could not get their footing to climb onto the lakeshore, according to local villagers.  
"We will try our best to get the wild elephants out of the lake," said U Moe Myint Zaw, an officer from the Forest Department in Maungdaw Township.  
He continued that the four elephants were in a group of seven, and that they would be reunited with the other three once rescued.  
The lake is more than 20 feet deep and 100 feet in diameter.  
Maungdaw Township is densely forested, providing habitat to a variety of wild animals including elephants. In addition, locals say wild elephants have been killed by humans. 
Wild elephants are not allowed to be captured or killed under the Wildlife Conservation Law, according to the Maungdaw Township Forest Department.