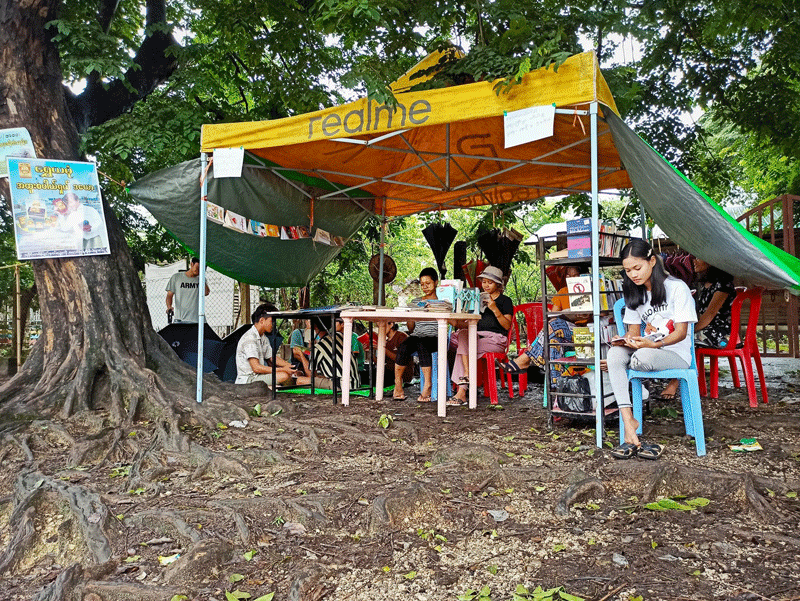 DMG Newsroom
20 June 2021, Sittwe

A weekly mobile library campaign is being held in Arakan State's Sittwe, Minbya, Rathedaung, Kanhtaukgyi and Ramree towns to foster greater interest in literature among young people.

The bookmobile boosterism aims to attract the attention of young people who spend a lot of time on their mobile phones, according to the youths leading the campaign, with the activities undertaken because libraries were not functioning normally.

"Another way to get young people interested in literature in our town is to develop mobile library activities to revitalise literature. The library in our town is not workable. That's why we launched this mobile library campaign, to give young people one way of accessing a library," said Ko Nay Nyein Chan, director of the Minbya Youth Association (MBYA).

Ko Zin Lin Khant, vice chairman of the Kanhtaukgyi Youth Group, said that instead of spending endless hours on their cellphones, people young and old alike can read books and literature on Mondays, the weekly day of operation for the local mobile library.

Although there is a library in Ramree, Ko Thaw Zin Tun, a Ramree youth, said the bookmobile campaign was launched because of the small number of young people who visit the regular library.

"There is Myoma Library in Ramree. But very few young people go to the library and read books. That's why we're launching a mobile library to keep young people interested in literature," he said.

Similarly, a local group in Rathedaung wants to make people in their area more familiar with books and literature, so they hold mobile library activities every Saturday to encourage young people to get into good reading habits.

Mobile library campaigns have gained momentum across several Arakan State townships this month, with many organisers also accepting book donations.