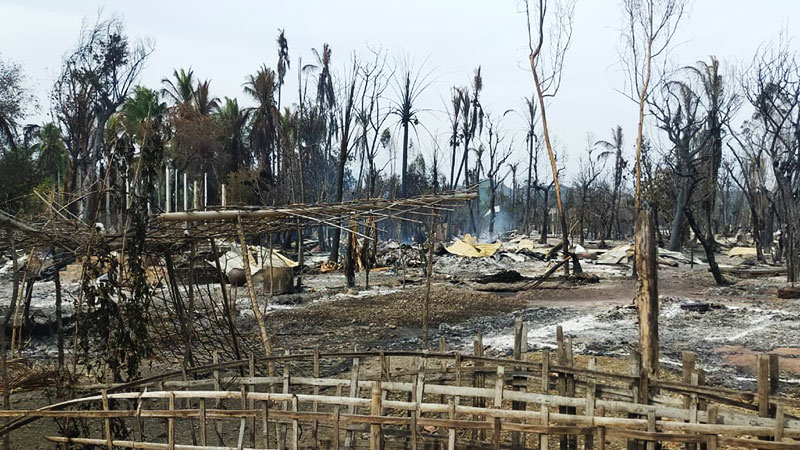 DMG Newsroom
2 July 2021, Mrauk-U 
Scores of houses in Lekka village, Mrauk-U Township, and Hpar Pyo village in Minbya Township, which were reduced to ashes in clashes between the Myanmar military (Tatmadaw) and Arakan Army (AA), have been rebuilt with the help of the Arakan State military council. 
A total of 197 houses in Lekka village were destroyed by fire last year and the Arakan State military council provided K5 million per house to rebuild them, according to villagers. 
U Tun Kyaw Phru, a member of the village housing construction committee, said he received K2 million in a first round payment and K1.5 million in a second tranche. Construction of his house is more than 70% complete, he added. 
"K5 million supplied by the Arakan State Administration Council is not even half the value of the house we lost. We also have to spend our own money to build houses. What about building a house with government money?" he said. 
Locals in Lekka village whose homes were partially or totally destroyed will receive K1.5 million in a third round of payments in the last week of July. 
Most of the residents have moved to their homes as houses are being rebuilt in the village, but some remain in camps for internally displaced people (IDPs) due to security concerns. 
Ma Khaing Soe Win, taking shelter at Tin Nyo IDP camp, said that because of the presence of Tatmadaw troops not far from the villages, locals were afraid to stay in their villages and continued to live in IDP camps. 
"We are concerned for our safety because fighting often occurs near our village. The military troops are stationed on Thinkyittaw Hill and Linmway Taung [Hill] near the village. Our fears are still unresolved. The children are still scared. When I returned to my village, I had no work to do. That is why we are worried about living in our village," she said. 
Houses are being built in Hpar Pyo village, Minbya Township, with a grant of K2 million per house for 41 houses destroyed by fire and K500,000 per house for 41 houses that were partially destroyed. 
"It can be said that the construction of houses has been completed. For the first time, K102.5 million has been provided for 41 houses that were burnt down and some houses that were partially destroyed. About 50% of the houses are completed," said U Thakhin Cho, a member of the Minbya Township military council. 
U Than Tun, a member of the Arakan State Administration Council, confirmed that 197 households received compensation to go toward rebuilding their homes. 
"We have provided K5 million in installments and the villagers will be able to live in their houses this rainy season," he said. "Some residents in Lekka village are already living in their houses. We only build for people who really want to live in their village. For the current rainy season, we have even provided paddy and farming implements to the fire victims."
U Than Tun said the state military council would continue to provide assistance for houses burned down in other townships, as well as for some of the houses that were partially destroyed due to conflict. At present, banks are having difficulty circulating money, and some are having difficulty on the ground, he added. 
During fighting between the Myanmar army and the Arakan Army, 197 houses were set on fire in Lekka village in May 2020, with many of the affected villagers still living in the Pi Pin Yin, Tin Nyo and Mrauk-U IDP camps. 
Similarly, 41 houses were set on fire in Hpar Pyo village during fighting there, also forcing villagers to flee. 
According to the Rakhine Ethnics Congress (REC), more than 1,200 houses in 45 villages were destroyed in the Tatmadaw-AA conflict across Arakan State and Chin State's Paletwa Township.