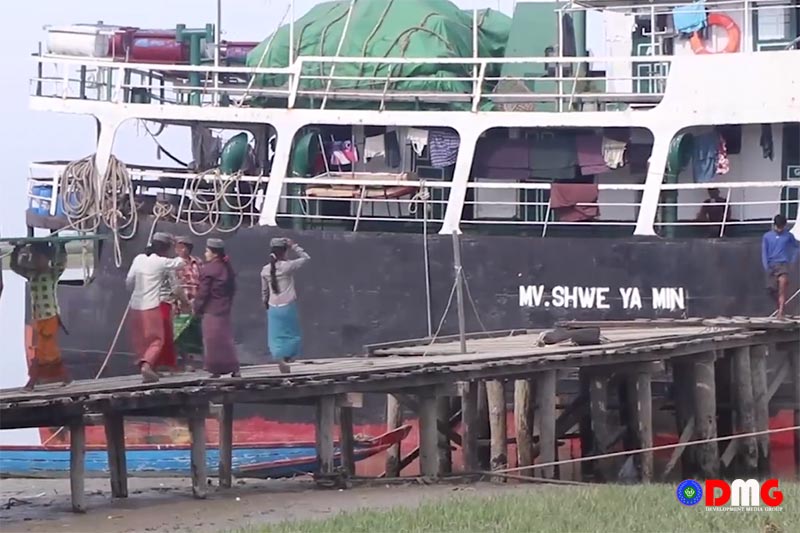 DMG Newsroom
11 July 2021, Sittwe

Border trade camps have been ordered closed from July 15-31 due to the rising rate of Covid-19 infections in Arakan State, meaning commodities must be shipped by July 15, according to trade unions.
At a July 4 coordination meeting of the Arakan State Covid-19 Control and Emergency Response Committee, the Arakan State military council said the border trade camps would be temporarily shut down as several of those infected with the virus were engaged in the border trade.
U Thar Tun Sein, an officer from Maungdaw border trade camp, said traders were aware of the looming closure, despite not receiving any official notification.
"We read in the news that the border trade camps in Arakan State will be temporarily closed from July 15 to 31, but the notification letter has not been received yet. The trade route remains operating normally. If the government [orders it], we must close," he said.
As a result, traders must get their goods shipped in the next few days or risk being shut out at the border, said U Tin Aung Oo, chairman of the Rakhine State Federation of Chambers of Commerce and Industry.
"We have informed the merchants that the border trade camps will be closed and that goods must be delivered on time. The previous waves of Covid-19 closed the border trade camps indefinitely, causing inconvenience as to when they would be reopened.
Border trade camps will be closed to a limited extent," he said, adding that he did not think merchants would be harmed significantly if the border gates reopen at the end of the month as has been reported.
From May 12 to July 10, a total of 793 Covid-19 cases and 12 related deaths were reported in Arakan State, according to the Arakan State Department of Public Health.