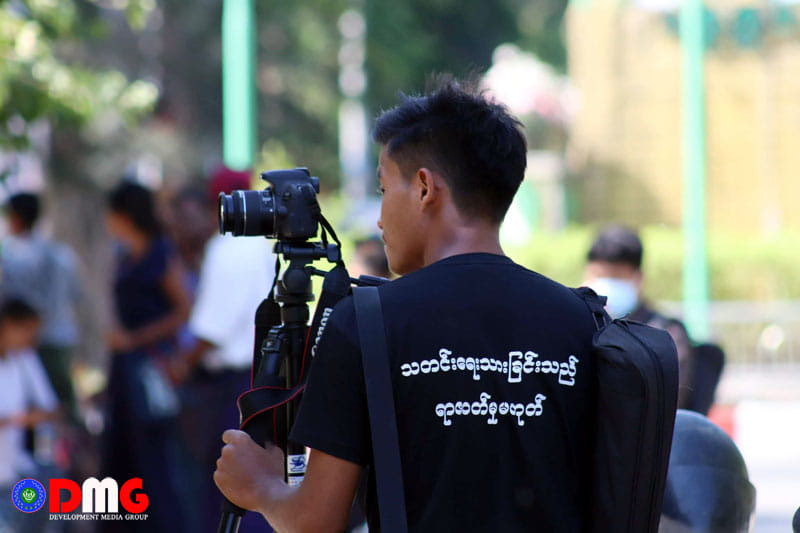 DMG Newsroom
11 October 2021, Yangon 
The group Myanmar Press Freedom In-Depth on October 11 released a statement calling for the release of 54 journalists who remain detained more than eight months after the military seized power on February 1. 
Most of the detained journalists have been charged under Section 505(a) of the Penal Code and Section 17(1) of the Unlawful Associations Law. Eight of them have already been sentenced to from two to three years' imprisonment. 
A female journalist in Kayah (Karenni) State, who asked for anonymity, denounced the arrest and charging of the journalists in Myanmar while other countries are carrying on in line with democratic standards. 
"I saw two points here. The first one is that it completely closes off journalists' rights to access information and the flow of information. The second point is that it imposes a news blackout. Journalists are a medium to provide information to the people, so they should not be arrested, or interrogated, or charged," she said. 
The detained journalists include correspondents from DVB, Mizzima, Frontier Myanmar, The Voice, Kamayut Media, Thingangyun Post, Kanbawza Times, Thanlwin Thway China and Myitkyina Journal, in addition to freelance commentators and journalists. 
The regime council has banned some news outlets, arrested reporters from others, and continues to oppress freedom of the press, the Myanmar Press Freedom In-Depth said in its statement. 
U Myint Kyaw, a former member of the Myanmar Press Council, said the arrests and charges of journalists was an extremely worrying condition for the detained journalists and those who are continuing to work in the media industry. 
"Since the work of a journalist has become a profession that is at risk of being arrested, it might directly impact freedom of the press. It is an act of putting pressure not to report information. All understand that it is a threat to freedom of the press," he said. 
Myanmar Press Freedom In-Depth said in its statement that it has continuously called for the immediate and unconditional release of all detained journalists, ensuring full press freedom and allowing all news outlets to work in their industry freely. 
On September 28, Burma News International (BNI) called for the release of detained journalists across the country, an end to the detention of journalists in prisons and interrogation centres, and an end to harassment of journalists under various criminal charges. 
BNI also called for news outlets whose licences have been revoked to be allowed to resume production and to respect the right to freedom of expression and information.