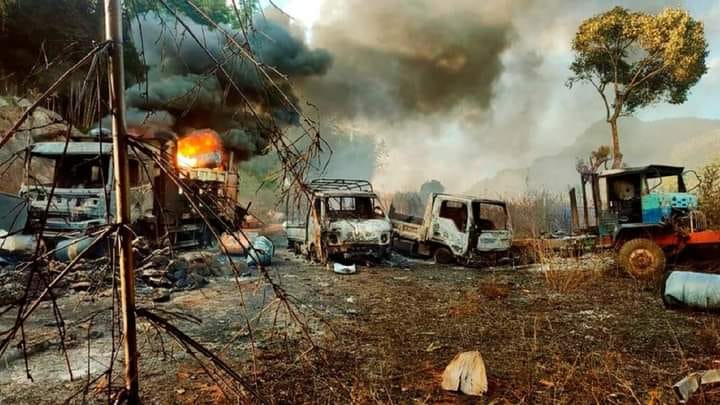 DMG Newsroom
29 December 2021, Kayah State 
The recent killing of 35 people in Kayah State's Hpruso Township — including women, children and two staffers of the international humanitarian organisation Save the Children — is yet more evidence to bring against the Myanmar military in international justice forums, according to political analysts. 
Save the Children confirmed on Tuesday that two of its employees were among the 35 people who were killed and whose bodies were burnt on December 24 in Hpruso Township. The deceased were both fathers, aged 32 and 28, and each leaves behind a child under the age of 1 year old, according to Save the Children.  
A member of the All Burma Federation of Students' Union called the massacre an act of lawlessness, and said those who were behind the killings should be prosecuted under international law. 
"The junta council's unlawful and lawless war crimes and cases against humanity are the best evidence to prosecute at international courts. The most important thing is to immediately take appropriate action against those who are involved in the case under international law," he said. 
Save the Children CEO Inger Ashing said news of the staff deaths was "absolutely horrifying." 
"Violence against innocent civilians including aid workers is intolerable, and this senseless attack is a breach of International Humanitarian Law," she said. "We are shaken by the violence carried out against civilians and our staff, who are dedicated humanitarians, supporting millions of children in need across Myanmar." 
"The men were on their way back to their office after working on a humanitarian response in a nearby community when they were caught up in the attack," Save the Children said in a statement on Tuesday. "The military forced people from their cars, arrested some, killed many and burnt the bodies." 
Save the Children has suspended its operations in Kayah (Karenni), Chin and Kayin (Karen) states, and Magway Region. 
Such killings are not unprecedented, said Ko Nyi Nyi Lwin (Ashin Gambira), a member of the 2007 Saffron Monk Network. 
"This is not the only case. Residents of Kinma village [in Sagaing Region] were burnt alive to death. So the evidence is strong. The regime council is always trying to cover up their actions. It depends on the decision of the ICC and the ICJ," he said, referring to the two main global tribunals, the International Criminal Court  and the International Court of Justice. 
The United Nations Children's Fund (UNICEF), and the EU and US delegations in Myanmar have all condemned the December 24 attack in Kayah State. 
The junta's Ministry of Foreign Affairs issued a statement on December 28 saying the matter was a "domestic issue" and that no international intervention should be allowed. 
The Three Brotherhood Alliance, of which the Arakan Army is a part, also condemned the Kayah State attack and urged world powers to work together to take action on violations of human rights, war crimes, and crimes against humanity committed by the regime council.