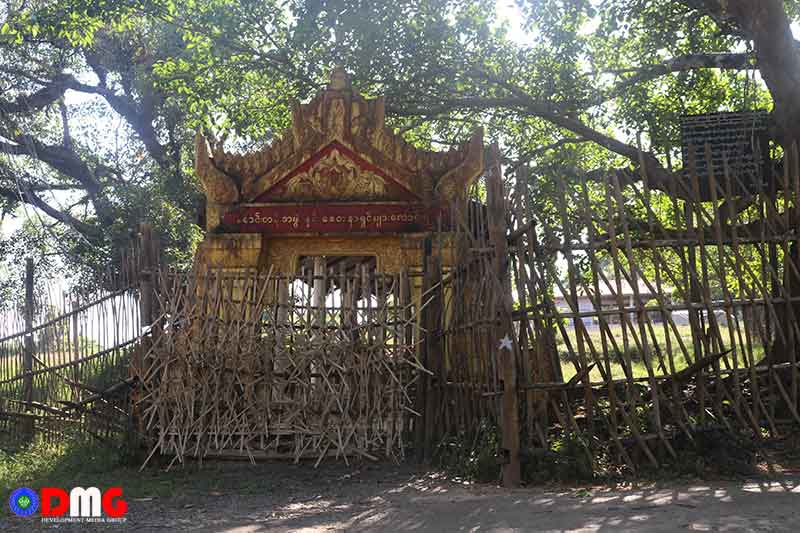 DMG Newsroom
26 January 2022, Sittwe
There have been almost no clashes between the Myanmar military and Arakan Army (AA) in Arakan State for more than a year, so the continuing military presence at historical pagodas in the state has locals voicing their displeasure. 
Buddhist statues and religious structures at 31 Common Pagoda, which were damaged during the 2018-2020 fighting, have yet to be repaired. The military, aka Tatmadaw, has been stationed at 31 Common Pagoda since 2019, leaving locals unable to repair the damage. 
Venerable U Tayzawvasa, chairman of the Buthidaung Township Sangha Nayaka Committee, criticised the presence of Tatmadaw soldiers at pagodas of religious and historical significance.
"Military troops should not be deployed in the vicinity of pagodas. I think the military presence at historical pagodas is completely inappropriate, from a religious point of view," the monk added.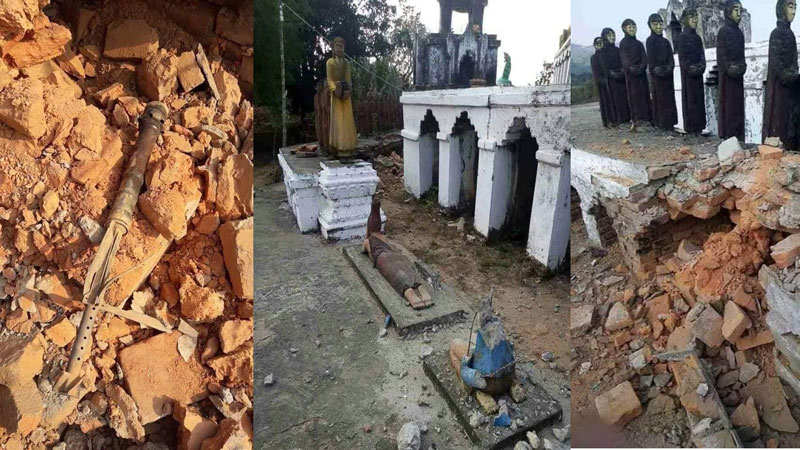 Several people from Shit Shar Taung, Uyinthar, Ngwar Yone Taung and San Ko Taung villages in Buthidaung Township, where the 31 Common Pagoda is located, fled their homes during the Tatmadaw-AA conflict and remain living at displacement camps in downtown Buthidaung.
"If the Myanmar military withdraws its troops, we will be able to return to our homeland. If they are there, it is not convenient for us to return, because we are people who fled because of the Myanmar military," said U Maung Soe Than, a displaced person from San Ko Taung village.
The Myanmar military has stationed its troops at well-known and sometimes ancient pagodas in Kyauktaw, Mrauk-U, Minbya and Buthidaung townships, according to local people.
"Pilgrims are worried as the Myanmar military has been stationed on Thaylar Giri Mawra Patta Mountain, a famous pilgrimage site in Arakan State's Kyauktaw Township, since 2019," said U Aung Tun Sein, chairman of the Thaylar Giri Mawra Patta Pagoda board of trustees. "The Myanmar military presence at the pagodas should be withdrawn so that pilgrims can worship safely."
He added: "If possible, I want the Myanmar military to remove its military presence at the pagoda. Because I want the pilgrims to be free from worries. Pilgrims come to worship with peace of mind and body. It is not good if the pilgrims are suffering mentally and physically at that time."
Elsewhere, a 40-strong Myanmar military contingent has been stationed at a monastery in downtown Kyauktaw over recent days.
Ko Zaw Win, a resident of Kyauktaw town, said junta soldiers often visit the local monasteries. 
"The Myanmar military troops have been stationed at the pagodas during the armed conflict. The fact that the Myanmar military is stationed in monasteries and pagodas is a direct violation of the religious freedom of the Arakanese people," he added.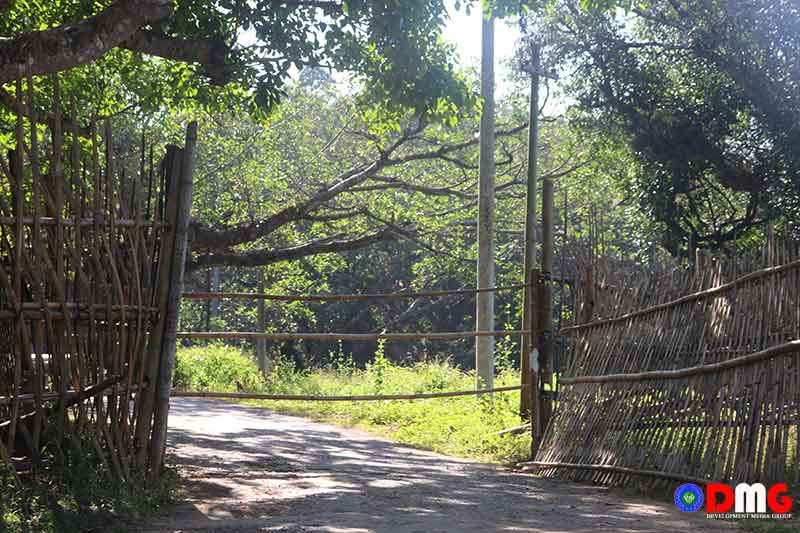 Similarly, the Myanmar military has been stationed at historical Kyein Taung Pagoda in Minbya since 2019, and locals are allowed to worship only for a limited number of days, according to locals.
"I think the Myanmar military should be able to withdraw its military presence at religious buildings, which are ancient heritage sites," said U Hla Thein Aung, a former Arakan State lawmaker for Minbya Township.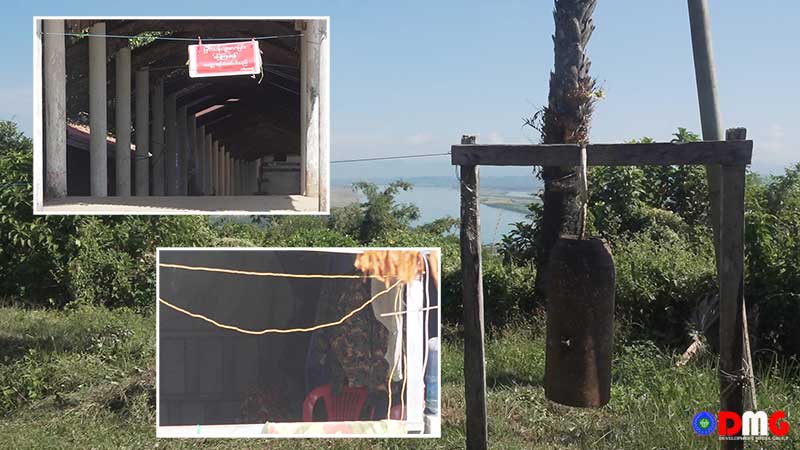 DMG attempted to contact the Arakan State security and border affairs minister, Colonel Kyaw Thura, about the military's presence at historical pagodas in the region, but he could not be reached for comment. DMG also phoned U Hla Thein, a spokesperson for the Arakan State Administration Council, but he too was unreachable.
U Khaing Thukha, a spokesperson for the Arakan Army and United League of Arakan (AA/ULA), has previously said Tatmadaw troops' presence at pagodas violates the Geneva Conventions.