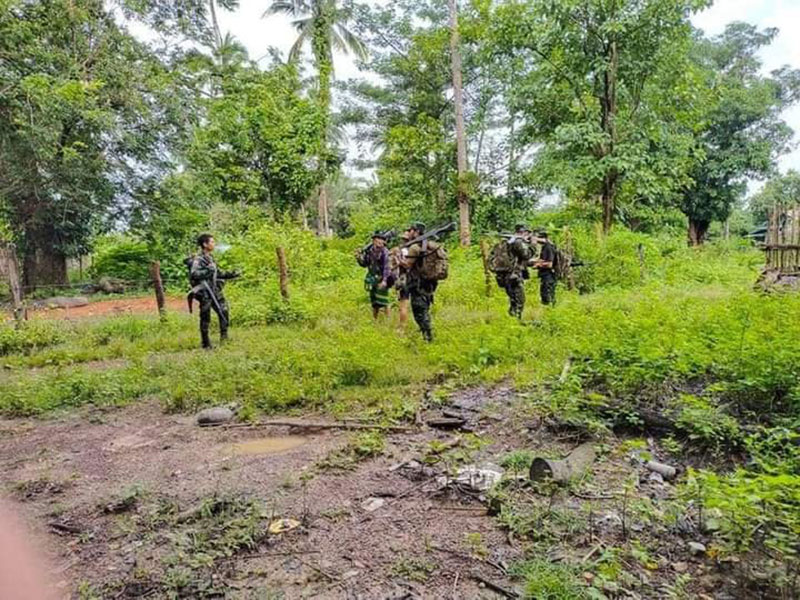 DMG Newsroom
11 May 2022, Kyaikto, Mon State 
Fighting continued for a second consecutive day on Wednesday in Kyaikto Township, Mon State, after coalition troops headed by the Karen National Liberation Army (KNLA) attacked a military convoy, according to locals. 
The KNLA forces launched separate attacks on a convoy of dozens of vehicles heading to Kyaikto from Waw, Bago Region, on May 10 and 11, locals said. 
"Fighting has been going on for two days near the Yangon-Mawlamyine road. A convoy of 30 military trucks bound for Kyaikto and Bilin from Waw, Bago Region, was attacked with landmines by the KNLA and anti-regime forces," a resident told DMG. 
During the fighting, more than 10 houses in Bikekar and Ingabo villages, which are located near the Yangon-Mawlamyine road, were damaged by artillery shells fired by the Myanmar military, according to locals. 
Some 100 locals have fled the fighting, said an Ingabo villager.  
"The Myanmar military fired artillery shells into the villages after the military convoy was attacked with landmines. The displaced people are unable to return home and are monitoring the situation," the villager added. 
Fighting erupted between the KNLA,  the armed wing of Karen National Union (KNU), and the Myanmar military near Bilin on Wednesday afternoon, according to sources on the ground. 
Since the coup on February 1, 2021, tens of thousands of people have been displaced by fighting in Kyaikto Township, an area largely controlled by KNLA Brigade 1, according to aid workers.