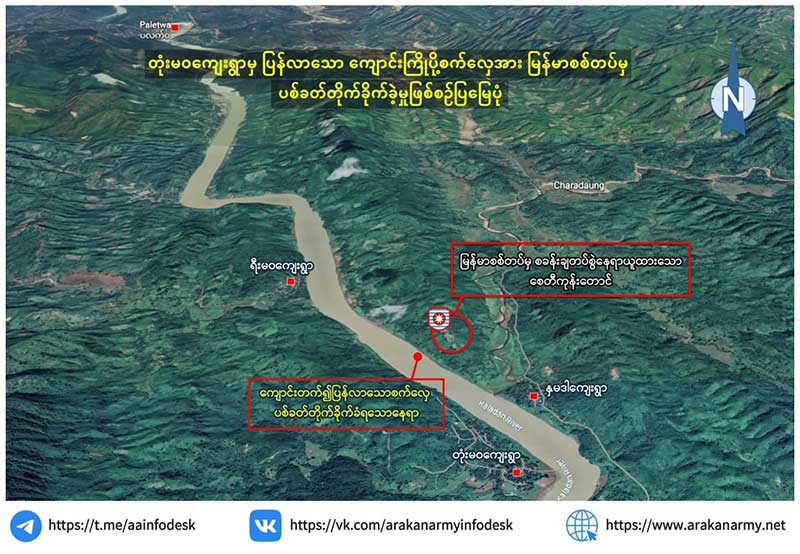 DMG Newsroom
3 August 2022, Paletwa

The Arakan Army (AA) has corroborated earlier reports that two students were killed and others were injured when the Myanmar military fired shots at a ferry transporting students along the Kaladan River in Chin State's Paletwa Township.

An AA statement said junta troops stationed at a pagoda in Namada village opened fire without reason on the ferry boat, which was transporting students back to their homes from the school they attend in neighbouring Tone Ma Wa village on Tuesday at about noon.

Two students, both aged 12 and from Yemawa village, died immediately, while some other students and the 56-year-old school watchman aboard the boat were injured in the shooting, according to the AA statement.

The Myanmar military and Arakan Army clashed in Paletwa Township and Arakan State's Maungdaw Township on Tuesday, the latter consisting of hostilities reported near mile post No. 40 in northern Maungdaw Township.

The regime's Chin State Security and Border Affairs Minister Han Win Aung was unavailable for comment on Wednesday, and DMG has been unable to contact junta spokespersons for a response to the AA's allegations related to the student ferry boat.

The Arakan Army has also accused junta soldiers along the Kaladan River of extorting money from travellers. The fighting continued on Wednesday morning as the two sides reportedly clashed near the village of Takar Chaung in the east of Paletwa Township.

"The clash erupted at around 7:30 a.m., and ended around 11 a.m.," said a Paletwa resident, speaking on condition of anonymity. "More than 10 artillery shells were fired by 9 a.m."

The Myanmar military's Light Infantry Battalion No. 289, based in Paletwa, provided artillery support for its ground troops in the fighting, according to Paletwa residents.

After 21 months of relative peace between the Arakan Army and Myanmar's military, an informal ceasefire reached in November 2020 appears to be crumbling. Both sides have killed and taken captive the other's personnel in recent weeks after months of escalating military tensions.