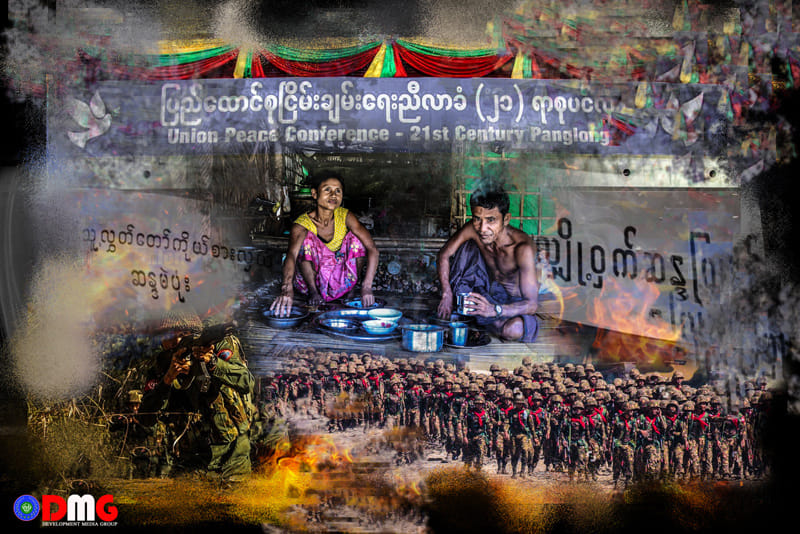 DMG Newsroom
5 August 2022, Sittwe

Junta chief Min Aung Hlaing, in a televised speech on Monday to mark 18 months since the military takeover, described the proportional representation (PR) electoral system as a solution to end ethnic armed conflicts in Myanmar.

Only by implementing PR will the country be able to ensure that all political parties can join the parliament, the junta boss said.

"There is a solution for ethnic people and ethnic areas that demand their rights. Ethnic people must be able to claim their rights and voice their grievances on an official political stage," Min Aung Hlaing stressed in his address. "It is none other than the parliaments, according to the constitution. Representatives of ethnic groups and different social strata must be included in the respective parliaments."

But politicians and observers said simply changing the electoral system will not solve Myanmar's conflicts.

The chairman of the Arakan National Party (ANP), U Thar Tun Hla, said all-inclusive dialogue is the first step toward building a genuine union.

"Myanmar's current political landscape is complex. Changing the electoral system alone is not the solution for Myanmar's political problems," he said.

"Every electoral system has its own strengths and weaknesses. We will have to wait and see how much the new system can impact things," he added.

Myanmar's military regime, which seized power from the democratically elected government in a February 2021 coup, has promised to hold a new election in August of next year. The regime justified its takeover by alleging the country's 2020 general election was marred by widespread fraud, a claim that is not supported by election monitors, a wide swath of the electorate, and much of the international community.

The junta is planning to replace the first-past-the-post electoral system with PR in the upcoming election.

The regime's intention in switching to PR is none other than to retain its grip on power through its proxy parties, said political analyst U Than Soe Naing.

"Just exercising PR will not bring peace for the country. What ethnic people are demanding is to establish federal democracy. Min Aung Hlaing's proposal for PR is just a political ploy to grab seats for pro-military parties in the parliament," he said.

Former Lower House lawmaker U Aung Thaung Shwe said Min Aung Hlaing must yield to the demands of ethnic people if the military regime is honest in its desire for a genuine federal union.

"The solution for this country is not the election. Promising PR and an election is meaningless if no dialogue is held with ethnic people about what they want. The demands of ethnic people must be fulfilled, if this sham union is to be turned into a real one," he said.

On Monday, the regime extended its declaration of emergency rule for six more months.