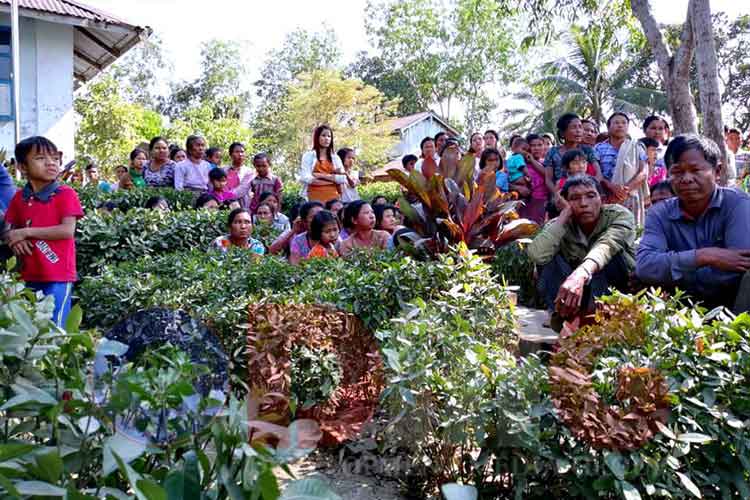 Khaing Roe La | DMG
9 August, Sittwe

The administrator of Thameehla (Yet Khone Daing) village in RathedaungTownship is a staunch supporter of the Arakan Army and attacked military troops many times with explosive devices, the Tatmadaw announced.

Action based on a tip from some villagers, prompted the Tatmadaw to search U San Thar Aung's house on 8 August and seized 2,500,000 WY tablets, 36 hand-grenades, 23 tubes, two packs of gunpowder for mixing with steel balls ( a pack approximately weighs 3.6 lbs.) and related accessories to make explosive devices, it said.

A villager said that he was a farmer and he was not familiar with drugs. "He is a good person. He is active in all community services. He always participates in the village's pagoda festival and donation ceremonies," said the villager who asked not to be named.

The Tatmadaw said that they have discovered that the AA gave him the drugs to earn an income that will be spent for buying ammunition and food for the AA and the ammunition has been kept in his home where the AA can get to it when needed.

The AA's spokesperson Khaing Thukha said that it was an accusation of the Tatmadaw.

"It is a political maneuver by the Myanmar Army. They did it with intention to tarnish our reputation. The ammunition they seized is not related to us. They transported the munitions material on their ship and pretended to search the house to show fabricated evidence. It has no connection to us whatsoever," Khaing Thukha said.   

Currently, the village administrator and his five family members are on the run and authorities are trying to capture them, the Tatmadaw said in its announcement. 

"All men above 15 years of age fled from the village when they heard a military troop were entering the village," said the villager who asked not to be named.

U San Thar Kyaw has two teenage daughters and one son in his 20s, according to village sources.

When the military troop entered the village, all men fled from the village while women and elderly folks have been taking shelter in the village monastery.