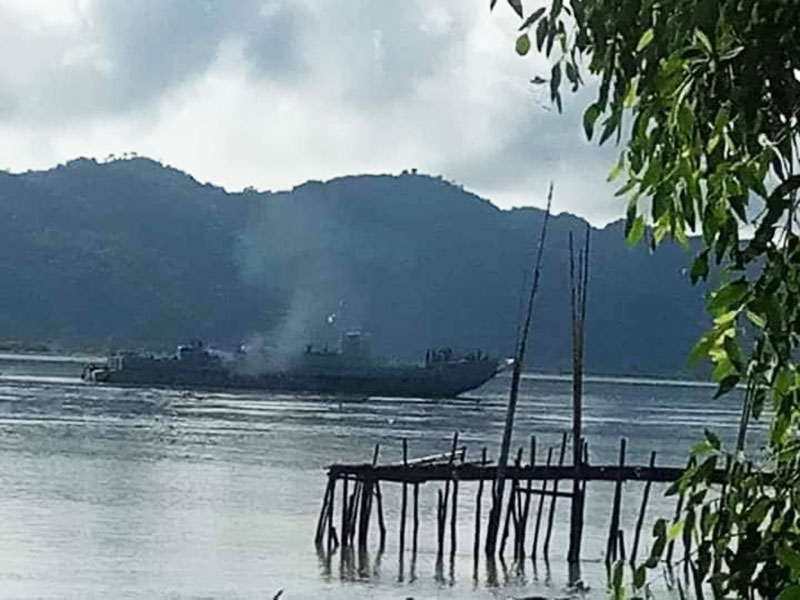 DMG Newsroom
21 September 2022, Kyaukphyu 
The Myanmar military has arrested at least 13 people over a two-week period in Arakan State's Kyaukphyu, Manaung, Taungup and Ann townships on suspicion of having ties to the Arakan Army, according to U Khaing Thukha, a spokesman for the ethnic armed group. 
"The Myanmar military attempted to detain ULA/AA officials and arrested some civilians in Kyaukphyu, Thandwe, Taungup, Manaung, Ramree and Ann townships on suspicion of having links with the Arakan Army," he told the reporters at an online press conference on September 19, referring to the Arakan Army and its political wing, the United League of Arakan (ULA). 
"At least 13 civilians were arrested over alleged AA links in two weeks," he added. 
The ULA/AA continues to expand its administrative control over large swaths of Arakan State, complete with a judicial system and police force that runs parallel to the junta's own. The Myanmar military has gone from village to village, meanwhile, warning Arakanese people not to get involved in the AA's administration and not to contribute funds to it. 
The military has also raided ULA legal departments and arrested legal staff. Legal offices in some townships have been closed for a few days due to the actions of the military, U Khaing Thukha said. 
"The military continues to threaten people who come to the ULA Justice Department to file a complaint, so some townships have had to close down judicial activities for a few days. However, the ULA's legal department investigates cases in a timely manner depending on the location," he said. 
Though southern Arakan State has so far largely been spared in the recent renewal of hostilities between the military regime and Arakan Army, military tensions continue to run high across the state.  
The Arakan Army attacked a support ship belonging to the Myanmar military with heavy weapons in Arakan State's Taungup Township at around 2 p.m. on September 16, according to local people. 
The military abducted four civilians in Taungup on September 17 and 18. The township administrator announced on September 18 that residents of Taungup must submit overnight guest lists to respective ward and village administrators starting from September 21. 
"No overnight guest checks were conducted in the past. Four people were arrested by the military on September 17 and 18 under the pretext of checking for overnight guests," said a local. 
Fighting between the military and AA is ongoing in Maungdaw, Rathedaung and Mrauk-U in Arakan State, and Paletwa Township in Chin State, with some military camps being seized by the AA. 
DMG was unable to obtain comment from Major-General Zaw Min Tun, spokesperson for the regime and Colonel Kyaw Thura, Arakan State minister for security and border affairs, regarding the matter.