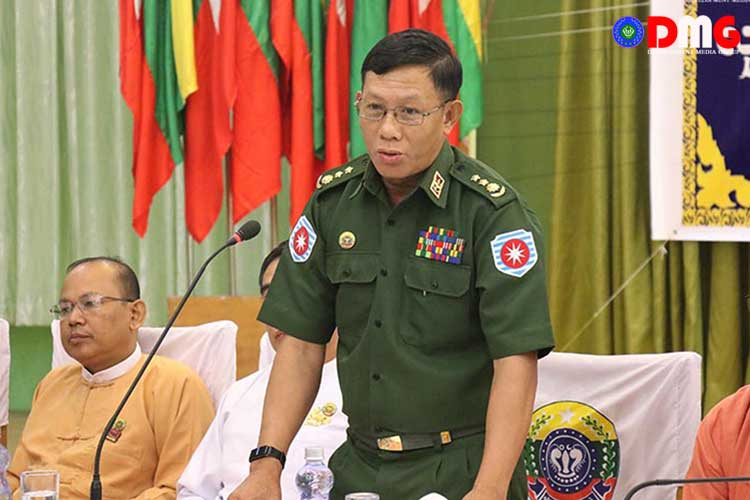 Win Nyunt | DMG
10 August, Sittwe
 
Colonel Phone Tint, minister for Security and Border Affairs, the Arakan State parliament called an urgent session to be held on 14 August to assign a new security and border affairs minister.
 
The regional parliament announced that Colonel Min Than has been substituted for the incumbent minister Colonel Phone Tint.
 
Colonel Phone Tint was confirmed as the minister for Security and Border Affairs in Arakan State by the Arakan State parliament session convened on 13 July in 2017. After he assumed the position for two years, the reshuffle was made.
 
The reshuffle was a new approach, said U Kyaw Htwee, manager of the Supportive Network for Farmers in Arakan State.
 
"It would be better if the new minister is a person who can understand the standard of living, can differentiate between military and civilian affairs, and has a professional attitude regarding making peace. In addition to being someone who can work transparently to handle conflicts, and military affairs under the rule of law. But, we have to wait and see," he said.
The regional parliament also announced that Major Kyaw Myo Htet will be substituted for Major Thein Tun, the incumbent military representative in regional parliament.
 
The minister for Security and Border Affairs of a region should have good relations with local residents to support a region's stability, but Colonel Phone Tint was weak in public relations, said U Khaing Kaung San, Executive Director of the Wan Lark Foundation.
The Tatmadaw and the AA has been fighting in Northern Arakan State since December last year.
During the time of fighting between them, Maj-Gen Phone Myat, commander of the North West Command, was substituted for Maj Soe Tint Naing, commander of the western command.