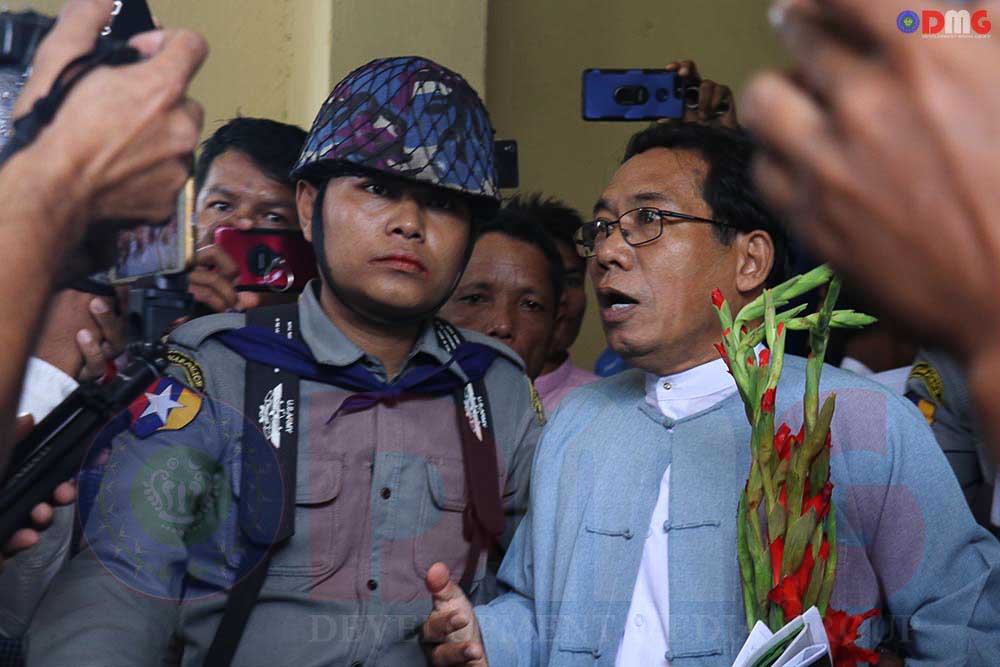 Khaing Roe La | DMG
September 5, Sittwe

Lawyers for Dr Aye Maung say they have submitted a special appeal to the Union Supreme Court for the Pyithu Hluttaw member for Ann township, who was sentenced to 20 years imprisonment for high treason under section 122 of the Penal Code and for incitement under section 505 (b) of the Penal Code.

Lawyer U Aung Kyaw Sein said that they submitted Dr Aye Maung's last appeal on August 21.

"We submitted the appeal to check the case with a tribunal. The sentence issued to Dr Aye Maung isn't according to the law and it has flaws. We submitted the special appeal to sort out these problems," U Aung Kyaw Sein said.

Dr Aye Maung and author Wai Hun Aung were sentenced to 20 years' imprisonment for speeches given at a mournful memorial event about the fall of the Arakan Kingdom held in Rathedaung Township in January 2018.

The two accused have submitted several appeals to higher level courts but so far they have all been rejected.

U Aung Kyaw Sein said that the reason they submitted the special appeal was that Dr Aye Maung didn't pose any threats to the country or the government in his speech, but he just gave a speech about the fall of Arakan Kingdom. Also, a recording of his speech was used in court was a copy rather than the original, and the law does not allow a defendant to be charged with three offences for a single speech or action.

"We think the decision made by the court is wrong. That's why, we submitted an appeal. We don't know yet what decision the court will make. We will have to wait and see whether the court accepts what we have presented. We hope to receive the right decision," he said.

He added that they haven't known yet when the Union Supreme Court will respond to the special appeal.

Another lawyer, Daw Aye Nu Sein, said that they will submit the appeal as well for author Wai Hun Aung.

"We haven't submitted the appeal for Wai Hun Aung yet, but we are working on it," she said.

Both Dr Aye Maung and author Wai Hun Aung have been incarcerated for a year and nine months.