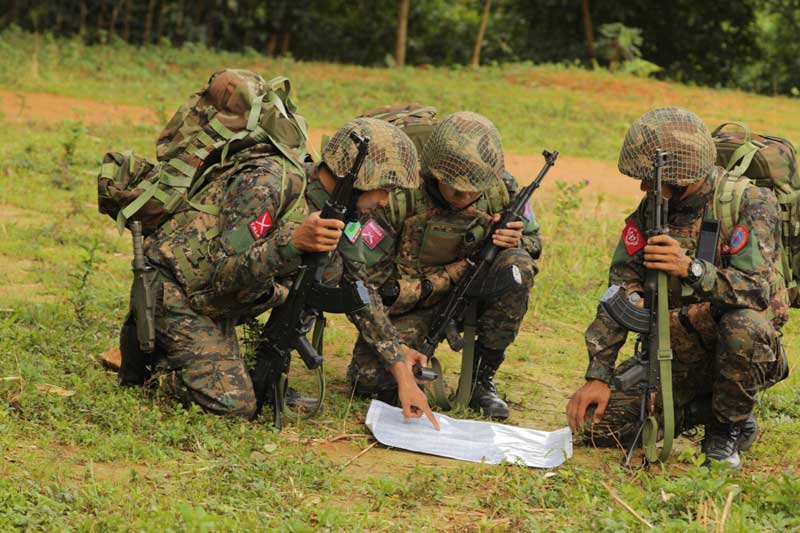 Aung Htein | DMG
9 September, Sittwe
 
In order to enable peace negotiations, three ethnic armed groups from the Northern Alliance declared a unilateral one-month ceasefire on 9 September.

The Ta'ang National Liberation Army (TNLA), Arakan Army (AA) and Myanmar National Democratic Alliance Army (MNDAA) set the time period for the unilateral ceasefire from 9 September to 8 October, they said in their statement.

Although they declared unilateral ceasefire, they would defend themselves if there were offensive attacks from the Tatmadaw, the AA's information officer Khaing Thukha said.

"We will resist the Tatmadaw's offensive operations or preparations for offensive attacks and air strikes during the ceasefire," Khaing Thukha said.

The three ethnic armed groups would not conduct offensive attacks on the Tatmadaw but they would retaliate against the Tatmadaw's offensive operations and air strikes, they also said in the statement.

The Tatmadaw at the end of August extended its unilateral ceasefire in its five military commands for three weeks until 21 September.

The Tatmadaw still excluded the Western Command of Arakan State where it is fighting with the AA. The unilateral ceasefire is still effective in Northern, Northeastern, Eastern, Central Eastern and Triangle commands.

The Tatmadaw declared its first unilateral ceasefire from 21 December 2018 to 30 April 2019 and extended it until 30 June. Then, it was extended to 31 August. The last extension is until 21 September.

In the meeting held in Keng Tung, eastern Shan State, on 31 August, the Northern Alliance has agreed to keep on talking with the Tatmadaw to end war.