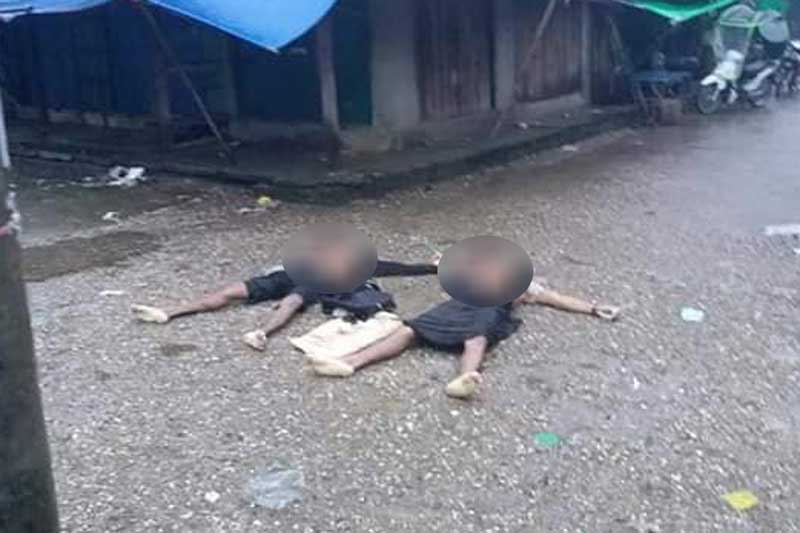 Khaing Roe La | DMG
10 September, Sittwe
     
Three men from Ann and Myebon Townships in Arakan State were brutally killed on September 9.

U Khaing, 39, from Mae Let Maung in Ann Township was stabbed to death. Four unidentified men entered the house at about 11 p.m. on 9 September and killed him, said Daw Khin Yee Than, wife of the victim.

"Four men suddenly entered our house last night while we were sleeping. Then, they shined a flashlight on my husband and stabbed him in the neck. He was stabbed many times and died," she said.

Moreover, two decapitated bodies were found at the entrance of the market in Kan Htaung Gyi town, Myebon Township. Locals found the bodies at about 5 a.m. this early morning of September 10.

"Their heads were cut off and placed on their belly," said a local witness who asked not to be named.

Authorities from Kan Htaung Gyi police station told the DMG that the case was under investigation.

The DMG also phoned Arakan State's police Chief Colonel Kyi Lin, but he could not be reached for comment regarding the murder.

Locals are concerned for their safety following the brutal killing. Previously, local residents were shot dead and killed in their house.

U Aung Win, Arakan State MP for Myebon Township, said that authorities should try to find out the truth regarding the matter.

"People face a lack of dependable security. Villagers were killed and are now in an anarchistic situation. They are helpless and they do not know who they should rely on. Previously, people were shot to death and no one knows perpetrator of the murders so far," U Aung Win said.