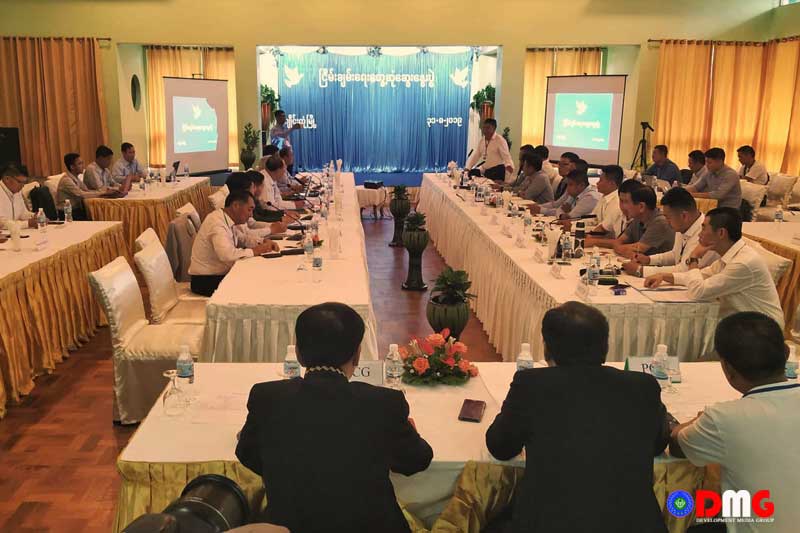 Myat Win Kyaw | DMG
September 14, Yangon

Tatmadaw lieutenant-generals and Union Attorney-General U Tun Tun Oo, vice-chairman of National Reconciliation and Peace Centre (NRPC), will attend a meeting between the Peace Commission and four northern alliance armed groups in Keng Tung, Shan State, said U Zaw Htay, spokesperson for the President's Office.

"We are focusing on these discussions because they are important. If the discussions aren't good, it could lead to an unfortunate outcome," he said during a press conference held at the Presidential House on September 13. 

He said the Tatmadaw will decide whether to extend its unilateral ceasefire based on the discussions.

Representatives from the NRPC, the senior officers from Tatmadaw and four northern alliance armed groups – Ta'ang National Liberation Army (TNLA), Myanmar National Democratic Alliance Army (MNDAA), Kachin Independence Army (KIA) and Arakan Army (AA) – have agreed to meet on September 17 in Keng Tung.

The NRPC and four Northern Alliance groups met on August 31, and the armed groups asked for the senior Tatmadaw officers to attend the next meeting.

U Zaw Htay said the government is trying to sign bilateral ceasefire agreements with the four Northern Alliance groups as a first step. The second step will be to meet with the groups individually and the third step is for them to sign the Nationwide Ceasefire Agreement.