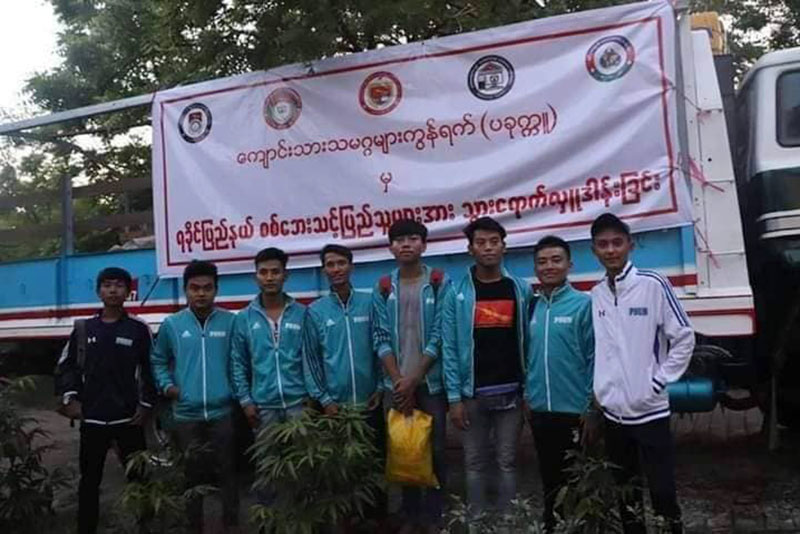 Win Nyunt/DMG
October 19, Sittwe
A group of five student unions, which came from Pakhoku to provide food supplies at IDP camps in Arakan State, was stopped by the authorities in Ann but later was allowed to keep traveling to Minbya on October 19 because of intervention by the State Hluttaw, the student union group said.
Pakhoku student union group arrived in Ann in the afternoon on October 18 and was stopped by authorities. Because the trip was delayed, the student union group rang U San Kyaw Hla, Speaker of Arakan State parliament.
Salai Banbie Hnisar, Chairperson of Chin Students (Pakhoku) said that as U San Kyaw Hla informed the situation to Colonel Min Than, the Arakan State Border Affairs and Security Minister, the authorities let them continue the trip.
Student Unions will donate rice, cooking oil, salt, clothes and stationery for students in IDP camps.
"Our plan is just to go to Minbya at the moment. Arakan State Student Union Groups and Arakan National Party are waiting for us there. After talking with them, we will know how we should continue our plan," Salai Banbie Hnisar said.
The Rakhine Ethnic Congress (REC) said that the refugees are facing food, accommodation and health issues because the assistance that they have received has decreased.